(PMAY) Apply Pradhan Mantri Awas Yojana Eligibility and Form 2020 Using pmaymis.gov.in | Housing for All 2022 Scheme
The much awaited Pradhan Mantri Awas Yojna has been launched by the Prime Minister Narendra Modi that envisages the vision of Housing for All by the year 2022. The article includes various aspects of the scheme covering the beneficiaries, eligibility and the process for applying under the scheme.
The government of India had earlier launched 'Housing for All' scheme, which has now been reformed as PMAY. The Scheme has been launched by the Prime Minister of India, Narendra Modi in June 2015.
Read This article for Pradhan Mantri Mudra Yojana
The scheme comes with an aim of constructing more than two crore houses across the length and breadth of the nation within a span of next seven years. This means the scheme which is started in year 2015 would conclude successfully in the year 2022. The target beneficiaries of the scheme would be poor and people living under EWS and LIG categories in urban establishments of the country.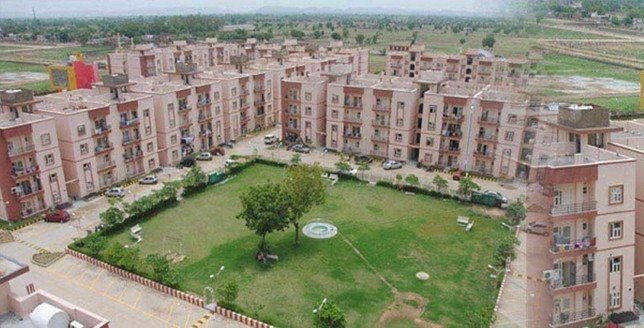 Housing for All 2022 | PM Awas Yojana Guidelines
The PM Awas Yojana would start in the year 2015 and would be spread for implementation till the year 2022 and would be carried out in three sustainable phases:
PMAY Phase 1: The Phase 1 of PM Awas Yojana would span from April 2015 to March 2017 and a total of 100 cities would see the developmental work started and completed during this phase.
PMAY Phase 2: The Phase 2 of PMAY would span from April 2017 to March 2019 and during this phase, a total of 200 more cities would be covered and developed.
PMAY 3: The Phase 3 of PMAY would span from April 2019 to March 2022 and during this phase the left over cities would be covered and developed.
The Beneficiaries of PMAY
This scheme would target specific groups from the society, which are:
Women, irrespective of caste and religion

Economically Weaker Section of Society (EWS)

Lowe Income Group (LIG)

Medium Income Group 1 (MIG 1)

Medium Income Group 2 (MIG 2)

Scheduled Tribes (ST)

Scheduled Casts (SC)
The Government of India would be granting a subsidy to people from these categories so that they buy a home for themselves and their families. The subsidy amount may range from Rs 1 lakh to Rs 2.30 lakh.
Features of Housing for All 2022
The government would provide an interest subsidy of 6.5% on housing loans availed by the beneficiaries for a period of 15 years from the start of loan.

The houses under this scheme would be allotted to preferably the female member of the family. Along with this, preference would be given to the female applicants, in general. This scheme could well be termed as a pro-women scheme.

While allotting ground floors in any housing scheme under the PMAY, preference would be given to differently-abled and older people.

The construction of houses under PMAY would be carried out through technology that is eco-friendly.
Lock-in Period on PMAY – In an epic announcement, made by the central Housing Ministry, all applicants and beneficiaries, under the Pradhan Mantri Awas Yojana or PMAY have been notified that they will not be able to sell their permanent dwelling before the completion of 5 years. This lock-in period has been implemented to eliminate unfair practices. Corrupt beneficiaries use this scheme as a way to earn money. They sell their PMAY home to third parties at high market rates. This malpractice defeats the overall objective of the scheme. With the activation of this lock-in period, corrupt beneficiaries will not be successful in their illegal endeavors.
Interest Subsidy in Awas Yojana
| | | | |
| --- | --- | --- | --- |
| Particulars | Interest Subsidy | Loan Amount | Carpet Area Sq Mt |
| EWS | 6.50% | 6 Lakhs | 30 |
| LIG | 6.50% | 6 Lakhs | 60 |
| MIG 1 | 4.00% | 9 Lakhs | 120 |
| MIG 2 | 3.00% | 12 Lakhs | 150 |
PM Awas Yojana EMI Calculation
| | | | | |
| --- | --- | --- | --- | --- |
| Particulars | EWS | LIG | MIG – 1 | MIG – 2 |
| Annual Income upto | 3 Lakhs | 6 Lakhs | 12 Lakh | 18 Lakh |
| Ineterst Subsidy | 6.50% | 6.50% | 4% | 3% |
| Maximum loan tenure in years | 20 | 20 | 20 | 20 |
| Eligible loan | 6 Lakhs | 6 Lakhs | 9 Lakh | 12 Lakh |
| Current Interest Rate | 9% | 9% | 9% | 9% |
| Interest Subsidy rate | 6.5% | 6.5% | 4% | 3% |
| Carpet Area | 30 Sq Mt | 60 Sq Mt | 90 Sq. Mt. | 110 Sq. Mt. |
| Monthly EMI @ 9% without interest subsidy | 5398 | 5398 | 8098 | 10797 |
| Monthly EMI interest subsidy | 3179 | 3179 | 594000% | 859700% |
| Montly EMI Saved | 2219 | 2219 | 2158 | 2200 |
| Annual EMI Saved | 26628 | 26628 | 25896 | 26400 |
Components (Housing for All 2022)
An average of Rs 1 lakh would be granted by the Government of India to all the beneficiaries under the scheme.

Through Credit Lined Subsidy Scheme, a subsidy of 6.5% would be given to each beneficiary belong from EWS and Lower Income Group categories. MIG 1 will get 4% and MIG 2 will get 3 % interest Subsidy.

A central government assistance of Rs 1.5 lakh would go to every beneficiary for promoting housing stock and thus 35% of the units under the project would be earmarked for the Economically Weaker Section category.

In addition to the above, an Rs 1.5 lakh would be provided to all eligible urban poor who want to construct their own house in urban areas or wish to make necessary renovations in their existing houses.

You can avail loan under this scheme for building toilets in your existing house.
How to Apply for Pradhan Mantri Awas Yojana Online (Housing for All 2022) and application form
Online application for the scheme
With an objective of increasing and fast forwarding the number of application that people make under this scheme the government has decided to start the online application process. So the urban poor families which are homeless can now apply for a house under this scheme on the online mode. The forms for the scheme can be submitted online. As announced by the government this online form submission process for the urban poor . Please click on this PMAY Form.
Pradhan mantri Awas Yojana Application Form through CSC
As mentioned above the urban poor can now apply for the PMAY through CSC which refers to the common service center that are available in the urban areas and the rural areas for delivering different government services to the Indian citizens. The main function of it is to help in achieving the Digital India mission.
Here are some important details about how the online submission of Awas Yojana forms would work-
It has been announced that out of the 2 lakhs CSCs available in the urban areas across the country, a total of 60000 CSCs will be made a part of this scheme and they would be accepting online application form of the scheme.

The online from submission under this scheme has been enabled with e-KYC which means Know Your Client. So all the forms will be considered for final submission only after proper verification of the details given by the applicant.

Online form submission under this scheme would cost Rs.25 for which the CSC will provide the applicant with an acknowledgement slip which will have the photograph of the applicant and a unique ID on it. This ID should be used for tracking of the application status.

Like most of the government schemes, here in this scheme also Aadhaar card is a mandatory document and have to be shown during the application process. In a case where the application does not have an Aadhaar card, the CSC should help the applicant in getting one.
How to find CSC in your city?
Now the question would be on how to find the nearest CSC in your city. Well this process too is quite easy. Anyone who needs to locate a CSC has to go to the following link- http://gis.csc.gov.in/locator/csc.aspx. Once you have opened this link you need to enter your State name, District Name and Block Name in the box given. Once you have entered these details, click on 'search'. You will then get the detailed address of the nearest available CSC in your city or state or village.
Awas Yojana List for all states that will carry out this task.
| | |
| --- | --- |
| Sno | State |
| 1 | Uttar Pradesh |
| 2 | Maharashtra |
| 3 | Bihar |
| 4 | West Bengal |
| 5 | Madhya Pradesh |
| 6 | Odisha |
| 7 | Telangana |
| 8 | Kerala |
| 9 | Jharkhand |
| 10 | Assam |
| 11 | Himachal Pradesh |
| 12 | Tripura |
| 13 | Meghalaya |
| 14 | Manipur |
| 15 | Nagaland |
| 16 | Tamil Nadu |
| 17 | Rajasthan |
| 18 | Karnataka |
| 19 | Gujarat |
| 20 | Punjab |
| 21 | Chhattisgarh |
| 22 | Haryana |
| 23 | Jammu and Kashmir |
| 24 | Goa |
| 25 | Arunachal Pradesh |
| 26 | Mizoram |
| 27 | Sikkim |
| 28 | Andhra Pradesh |
| 29 | Uttaranchal |
Following Union Territories would also be covered under PMAY
| | |
| --- | --- |
| Sno | UT |
| 1 | Pondicherry (Puducherry) |
| 2 | Lakshadweep |
| 3 | Delhi (National Capital Territory of Delhi) |
| 4 | Daman and Diu |
| 5 | Dadra and Nagar Haveli |
| 6 | Chandigarh |
| 7 | Andaman and Nicobar Islands |
The scheme is a great initiative by our Prime Minister Narendra Modi and if implemented the way it has been formulated and dreamt off, it is going to change the infrastructural face of Modern India and would
How to search your Name in this scheme portal.
Now, how are you going to know whether you are eligible for the PM Awas Yojana? You will have to submit the documents of BPL certificates. And you will be notified from the bank that whether you are eligible or not. But there is also an online way of knowing whether you are eligible or not. For that you have to visit the official website, which is http://pmaymis.gov.in/Search_Name.aspx. There is a list of beneficiaries available within the website. You cannot download the list. And even if you are able to download the list it will not be of very much use to you. The reason is, the list is updated periodically since a lot of individuals names are included in the list and those who have been provided with the Awas Yojana facility, those names are stroked off. So, it will not really be of much use to you if you download the Awas Yojana list.
Awas Yojna Toll Free Numbers.
800-11-6163,

1800-11-3388 and

1800-11-3377.
Update 14th March 2017
First House Purchased With 20-Year Loan Will Be 2.4 Lakhs Cheaper
Just the night before New Year, 2017, Prime Minister Narendra Modi addressed the entire nation and said that the government will modify the flagship scheme known as PMAY. To increase the sale of real estate and also to ensure that the target of 'housing for all by 2022' is achieved, government will extend the interest subsidy benefit to two new groups of homebuyers based on income criteria. However, Modi kept some haze by not clarifying any details of the scheme.
Now that the scheme has been finalized, the two new subsidy schemes are all set to increase the real estate growth in Indian economy, that took a hit post-demonetization.
Announcement made by government
In the new announcement that came out from Government of India, it has been declared that people with annual earnings of INR 18 lakhs will enjoy cheaper property rates on their home purchase, subject to fulfilment of two conditions:
It should be the first home purchase.

The loan taken out for the home purchase should have a repayment tenure of 20 years.
In case these two conditions are met, the cost of the first house purchased will dip by INR 2.4 lakhs. At this very moment, this subsidy scheme is available only and only for those who have annual earnings of no more than INR 6 lakhs.
Also, the current limit for home loan tenure has been raised to 20 years from existing 15 years. Sounds confusing? The table below will help:
| | | |
| --- | --- | --- |
| Factors that have changed | Old Scheme | New Scheme |
| Annual income | INR 6 lakhs (max) | INR 18 lakhs (max) |
| Loan tenure | 15 years | 20 years |
What are the two new subsidy schemes?
As we said, PM Modi announced two new subsidy scheme. We will give a brief of those two schemes shortly but before that, let us take a look at the existing scheme:
Existing Scheme:
Eligible people: Those who have annual income not exceeding INR 6 lakhs.

Subsidy granted: 6.5 percentage points.

Subsidy available for: Loan up to 6 lakhs under PMAY.
So, if a person under this scheme borrows, say INR 12 lakhs at an interest rate of say 9%, the interest that the person will have to pay for INR 6 lakhs is 2.5% because the remaining will be subsidized (6.5% subsidy). For the remaining 6 lakhs (which is above the limit of 6 lakhs), the interest to be paid is 9%.
MIG 1:
Eligible people: Those who have annual income not exceeding INR 12 lakhs.

Subsidy granted: 4 percentage points.

Subsidy available for: Loan up to INR 9 lakhs. Loan amount over and above INR 9 lakhs will attract non-subsidized interest.
MIG 2:
Eligible people: Those who have annual income not exceeding INR 18 lakhs.

Subsidy granted: 3 percentage points.

Subsidy available for: Loan up to INR 12 lakhs. Loan amount over and above INR 12 lakhs will attract non-subsidized interest.
Whether it is the old scheme or the two new schemes, if the loan is taken out for a tenure of 20 years, the purchased property will be cheaper by INR 2.4 lakhs and installments to be paid per month will see a reduction of INR 2,200 approximately.
In addition to this, there will be income tax benefits as well, which can run as high as INR 61,800 a year, provided the person is in tax bracket of 30%.
Please note that the home prices dropping by approximately INR 2.4 lakhs is possible only and only if the loan is taken out for a tenure of 20 years. For a tenure less than 20 years, price reduction may be less.
3.5 Cr more houses would be sanctioned in PMAYU in Tamil Nadu [21st Aug]

Odisha has completed around 12 Lakhs houses. [25th Aug]

Government is below their target for completing this scheme by 2022.
Government have reduced GST rates from 12% to 8% for all home buyers opting for PMAY.
Limit for MIG 1 and MIG have been increased by central government.
For the PM Awas Yojana, PM will personally interact with the beneficiaries who have already got the keys to their new homes. While talking to PMAY beneficiaries, he will also initiate monetary transfer amounting to Rs. 500 crore, in bank accounts of around 50,000 candidates. A selected candidate from Jhansi will be talking live with the PM when the cash will be transferred in her account. Projects worth Rs. 500 crore will be launched officially as well.
Also Read