COVID-19 Student Helpline Portal by AICTE MHRD 2020 @helpline.aicte-india.org, state wise helpline numbers, assess test, institute / city services, developer info
The Ministry of Human Resource Development under the central government has come up with the COVID-19 student portal. This site has been launched by HRD minister Ramesh Pokhriyal Nishank to help students tackle the spread of coronavirus on the April 2020. The main purpose of starting the portal is to assist students who are having problems as colleges and hotels are closed due to lockdown for the pandemic. The emergency numbers including other information available on the site shall help the students.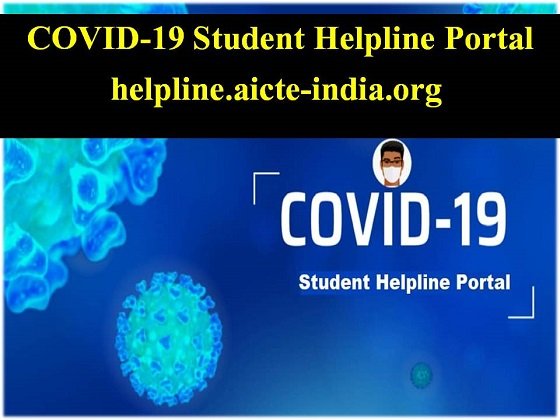 The All India Council for Technical Education has come up with MHRD COVID-19 Student Helpline Portal through which it can address different issues raised by students. However, the portal has been developed by two students, and they are Ahivanshu and Akash studying under Graphic Era University.
In addition to this, students can also look for the initiatives taken on the grounds of COVID-19 by IITs, Coronavirus Self Assess Test offering other relevant services.
Details of MHRD AICTE COVID-19 Student Helpline Portal
Through the launch of the portal, people can offer help to the students at this hour of lockdown. The kind of support includes food, accommodation, examinations, health transport, harassment, scholarships, online classes, and the like.
Click Here to apply for Central Government Scholarship (Fellowship) Scheme for Engineering Students in India
Benefits of the portal
One can get access to MHRD AICTE COVID-19 helpline portal click here
As the homepage of the helpline shows up, one has to enter the city to proceed in the link further
After selecting the city name from the drop-down list, one can click on the continue option
From the menu comes, one can choose like online virtual classes, class-related problems, library, books, scholarship issues, and others
With the launch of the portal, almost 6500 colleges have come up to offer help to the students at this hour of lockdown. However, to help students in difficulty, the online portal would be easy to go through and get connected with them easily.
Click Here to apply for Naya Savera Yojana Free Coaching and Allied Scheme for Minority Communities Students
Who helped develop COVID-19 Student Helpline Portal?
The helpline portal has been designed for the help of the people as follows
M.P. Poonia, Vice Chairman (AICTE)
Buddha Chandrashekhar, Chief Coordinating Officer (AICTE)
Anil D. Sahasrabudhe, Chairman (AICTE)
Akash Pandey, Intern at AICTE (Graphic Era University)
Shivanshu Gupta, Intern at AICTE (Graphic Era University)
What are the grounds on which would be helped via the portal?
Students can ask for help on different grounds and some of them are given below
Related to scholarship
Library and books
Online virtual class
Placement related
Class related
Accomodation
Internet connectivity
Harassment
Internet connection
Health and medical
Academic calendar-related
Transportation
COVID-19 Self Assess Test
If students wish to take a Corona virus test, they can try the self-assessment test through the test link available at here. 
Through the site, students can also search for the initiatives taken by IITs and other institutes at this hour of lockdown.
Click Here to apply for NIDHI EIR Loan Yojana for Engineering Students of Uttar Pradesh (To Set up their Start Ups)
State wise Helpline Numbers under COVID-19
The helpline number of central is 91-11-23978046. Below is a list of the numbers for help from other territories.
| | |
| --- | --- |
| Name of State | Helpline Numbers |
| Andhra Pradesh | 0866-2410978 |
| Arunachal Pradesh | 9436055743 |
| Assam | 6913347770 |
| Bihar | 104 |
| Chhattisgarh | 104 |
| Goa | 104 |
| Gujarat | 104 |
| Haryana | 8558893911 |
| Himachal Pradesh | 104 |
| Jharkhand | 104 |
| Karnataka | 104 |
| Kerala | 0471-2552056 |
| Madhya Pradesh | 104 |
| Maharashtra | 020-26127394 |
| Manipur | 3852411668 |
| Meghalaya | 108 |
| Mizoram | 102 |
| Nagaland | 7005539653 |
| Odisha | 9439994859 |
| Punjab | 104 |
| Rajasthan | 0141-2225624 |
| Sikkim | 104 |
| Tamil Nadu | 044-29510500 |
| Telangana | 104 |
| Tripura | 0381-2315879 |
| Uttarakhand | 104 |
| Uttar Pradesh | 18001805145 |
| West Bengal | 1800313444222 |
| Name of Union Territory | Helpline Number |
| Andaman and Nicobar Islands | 03192-232102 |
| Chandigarh | 9779558282 |
| Dadra and Nagar Haveli and Daman and Diu | 104 |
| Delhi | 011-22307145 |
| Jammu and Kashmir | 01912520982, 0194-2440283 |
| Ladakh | 01982256462 |
| Lakshadweep | 104 |
| Puducherry | 104 |
However, until the 4th of April 2020, there has been a total of 2301 COVID-19 cases in India only, and there are 56 death cases that have been recorded by the health ministry. Even the high educational institutes are offering help to the government healthcare centers by giving better research work that can help them combat the spread of the disease better. Other than this, NGOs, philanthropists, and social organizations are also helping by offering support. So, they can contact via [email protected]. 
Other links –