COVID-19 E-Pass Apply State Wise Application Form and status Curfew/Movement/Emergency Pass during COVID-19 Lockdown (Portal, Eligibility, Documents)
When the world is suffering from a vicious pandemic, some people are stranded in different states and cannot return to their home. Since, the lockdown is extended till 17th of May, 2020 many people who are in dire will face more difficulties. So the central government of India has launched e-pass for the people. With the help of the e-pass the people will be able to go out of their home amidst the lockdown for emergency purposes. With the gradual spurt of the cases in India, government decided to go for complete lockdown and people are not allowed leave their home.
But, there are people who have to go out for different purposes like to visit doctor, or to buy essentials, etc. So, the administration came up with an idea of e-pass that will help the people to get their emergency work done. The e-pass has to be show to the police while you are out on the road and the e-pass will be available state wise. The details of the e-pass are given below.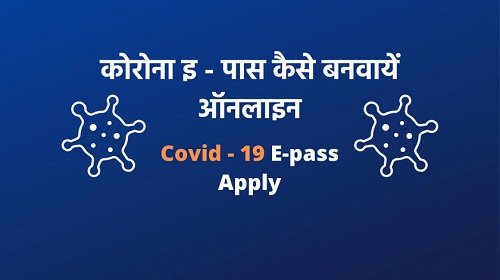 Details of the e-pass
| | |
| --- | --- |
| Name of the initiative | COVID-19 E-Pass |
| Issued by | Government of India |
| Mode of Apply | Online |
| Target people | Needy people |
Document's Needed to get Corona Lockdown E-Pass
In order to apply for the e-pass you need some important documents and they are listed below.
Identity proof- the candidates need to have proper ID proof like Aadhar, voter. So that name age, address could be given
Contact details- the candidates need to provide contact number during registration.
Photograph- to get your e-pass made you need to submit your recent pass-port size photographs.
Vehicle number- in order to get the e-pass you need to provide your vehicle registration number.
CLick here to apply state wise Migrant workers Online Registration
What are Needy Services for Curfew E-Pass?
There are few services that require employees to go out for their work and the services are listed below.
Electricity and Water Branch
Government and Private Bank Employee
Emergency lines like Ambulance
Courier Services
Hospitals and All the Health Services
Transportation Department
All type of ATM's
Petrol Pump in all area
Communication and Internet Phone co-operation
General and Retailer Shops
Police Forces
Fire Administration
All Government Workers
Goods Manufacturing Industries and their employees
Food Department
Who is Eligible for Corona Lockdown E-Pass?
The people in the country who are associated in any of the services that are listed above are eligible for the e-pass. During the registration process the documents will be checked thoroughly so that no breach occurs in e-pass. However, the necessary goods' sellers can sell items without any pass.
Click here to register for Karnataka Migrant Workers
Online Method to Apply for Corona Curfew E-Pass
Visiting the website- the person needs to visit the website of the specific state and click on e-pass option on home page.
Filling the form- A form will appear and you need to fill the form with accurate information
Registering mobile number- You need to provide your mobile number during registration. Entering OTP- After that an OTP will be sent to your number and you need to enter the OTP to confirm the registration.
Submitting the form- You need to submit the form after the registration is done. And you can view the registration status.
Apply for the Lock down E-pass by WhatsApp
If you want to avoid the registration on website then you can also apply through WhatsApp as well. Every state has different WhatsApp number and you need complete the process on the appropriate number.
Movement Pass apply through E-mail
One can get them registered through e-mail as well and for that they need to send a mail at specific address that is created for a particular state. The e-mail will contain all the details about you and work with the necessary documents attached. The validity of the pass is till the last date of lock-down.
CLick here to online booking for Lockdown Shramik Special Train
Procedure for Obtaining Lockdown E-Pass
In order to get the e-pass you need to visit the nearest DCP office in your locality. You need to carry an authorized letter from your office. Along with that you need to carry your identity proof like Voter Card or Aadhar card.
Steps to Check the Curfew Movement Pass
In order to check the status of your e-pass you need to visit the official website where you did the registration.
Then you need chick on the option called 'Click here to Apply for the Curfew E-pass'
You need to select the language and then click on the 'check status' button
You need to enter the seven digit registration number that is given at the time of registration
After that you need to click on the check status link to see the status.
Lockdown E-Pass online apply state wise link
| | |
| --- | --- |
| State Name | Covid-19 help From State Government |
| Andaman and Nicobar Islands | |
| Andhra Pradesh | |
| Assam | |
| Bihar | |
| Chandigarh | Click here |
| Chhattisgarh | |
| Delhi | |
| Goa | |
| Gujarat | To get help from District Collector and SDM, call at 079 2325 1900 |
| Haryana | |
| Himachal Pradesh |   |
| Jammu and Kashmir | |
| Jharkhand | |
| Karnataka | |
| Kerala | |
| Ladakh | |
| Madhya Pradesh | |
| Maharashtra | |
| Odisha | |
| Punjab | |
| Puducherry | |
| Rajasthan | |
| Sikkim | |
| Tamil Nadu | Click here |
| Telangana | |
| Uttar Pradesh | |
| Uttarakhand | |
| West Bengal | |
FAQs
Can Medical and Hospital staff get the facility of Corona Curfew E-pass?
Of course yes, they are the prime people in this case. But they need to bring authorized letter.
Who can apply for this lock down e-pass?
People, who are associated with essential services, are eligible for the pass. 
How long is this Curfew E-pass valid?
The validity of the e-pass will be the last date of lockdown which is apparently 17th May, 2020.
How can I apply for the E-pass?
You need to go to the specific website or you can opt for whastapp or email registration for this.
Is there is another way to apply for the E-pass?
There are only three ways to apply for the e-pass; so you can choose your convenient one.
Other links –