Jio 4G Smartphone at Rs 1000 with Unlimited Voice and Data
Jio has launched its brand new mobile phone at Rs. 1000 – like it had announced first. Previously Jio had launched its brand new SIM cards which could be used in 4G phones only. However, since 4G phones come with a cost, not everyone was able to get the benefits of Reliance Jio SIM. To address this problem and also to increase its reach far and wide in the country, Jio has come with a solution. It is now producing phones at only Rs. 1000.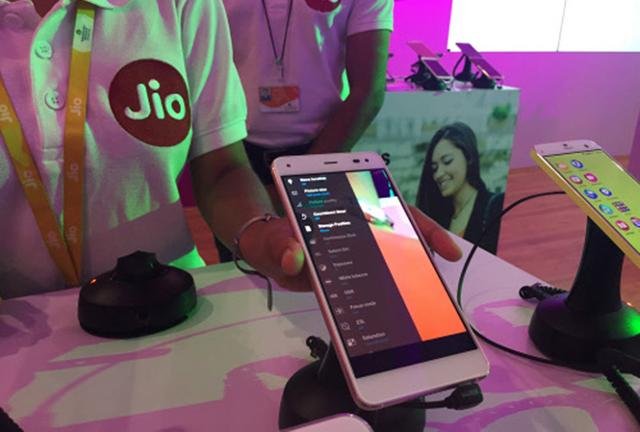 What is so special about Jio Lyf?
Reliance Jio has thoroughly stuck to its promise delivering us first of the Lyf mobile series within a budget. The phone will have 4G SIM slot and it will also have ample internal memory for the phone to work smoothly and for it to give us enough features to download.
The phone will enable you to video call, voice call, etc – all of which will be free for first three months unlimited. Yes, the Jio data pack will be unlimited for this series too.
There is already buzz around this phone and people are expecting to grab it as soon as possible. But will it be worth it?
Why choose Jio Lyf?
Jio is the brainchild of Reliance digital which aims to give India its fair share of digital technological advancement. In the third quarter of 2016 Jio launched its new SIM card and almost took the entire Telecom industry by surprise. Many Telecom companies had to rewire its policies to simply stay in the industry – Jio had given them such high competition.
It has broken all records and its one of the fastest growing Telecom brands with millions of subscribers only within 3 months. These figures take years for other Telecom companies to gain.
Even after so much, how far do we really know the brand? Before September, 2016 the brand didn't exist. Hence, before purchasing its products or buying its cheap mobile phone, we must really learn all that we can about the brand. Here are a few points to note –
At present, India has only one Telecom company that allows it to make VOLTE calls and that is Jio. Today there are 25 million subscribers.
Reliance Jio's phones (especially Lyf) have been selling for quite some time in the market right now. However, Jio wants to penetrate the country even further and therefore wants to put out an even affordable range for a short time.
Ever since the roll out of Reliance Jio SIM, the spreading of 4G enabled smartphones have doubled in the country. This shows how impactful of a brand Jio is in the market today.
How to buy Jio Lyf mobile phone?
This is the question that you should be asking right now. Although the selling of the product has not begun yet, you should be ready because the competition for the phones will be tough. This is why today we will give you step by step instructions on how to purchase the phone when it arrives.
Step 1: First of all you have to visit the website (the link will be enabled from January 2017 onwards). After going there, you will see some options. Choose the one you like and click on it.
Step 2: Upon clicking on your desired phone, a new page will open. There you will find a "buy now" option – Click on it. The product will appear on your shopping cart.
Step 3: You will be asked to Login/Signup. You can Sign up via "Facebook" with one click. If you don't have a Facebook account, simply enter your details such as name, address, phone number on the page and get started.
Step 4: Once you have logged in you have to click on "proceed". Then you will be asked to enter your address. Simply add your full address and include any landmark (if any).
Step 5: Now you have to make the payments. Usually the portals accept Cash on Delivery (COD) but in this case, you have to wait to see if that options has been made available or not. You can also pay via your debit or credit card or net banking.
Once you have successfully made the payment, you should get some confirmation via mail or SMS. The expected date of delivery shall be shown to you on your tracking screen or in the email.
Expected Features of the Phone
The phone is expected to have the following features –
It will have 4G, 3G and of course 2G connectivity support. Since it has 4G support, even the 3G connection will be available at high speed.
The phone is rumored to have an internal memory of 4G and a RAM of 512MB. A 512 MB RAM is low compared to other 4G phones of its category. However, considering the price, it is a worthy deal.
The phone will not have Android Marshmallow. It will operate on Android 5.1 though – which is still workable for the most part of the Android systems.
The display will be of 4 inches while the processor will be of MediaTek or Speadtrum. Jio has specially conjoined with MediaTek to roll out these phones.
Coming to the camera features, Jio has ensured there's a decent camera feature in this phone. You will get 5MP rear camera and 2MP front camera on this phone ensuring smooth capture.
Conclusion
A previous report suggested that Jio might roll out 45000 new towers across the country to expand its reach. It has also been heard that the company is all set to invest Rs. 1 lakh crore to make Jio a household name. The new tower installments are also a part of that investment.
As of now, Jio connection is working smoothly, however, certain connections like Vodafone and Airtel are unreachable and this has disrupted the usage of Jio cell phones.
Other Articles