Kisan Credit Cards to be Converted to RuPay Cards
On New Year's Eve, Indian Prime Minister Narendra Modi addressed the nation. As the whole nation was busy in new celebrations, people were also waiting impatiently to know what else Modi has to offer. In an interesting twist of wits, instead of giving any other mind boggling blow, PM Modi opened in bag of goodies and came up with several schemes that were geared towards agrarian and business sectors and even the end users of the consumers. The announcement was broadcast across the nation, even at bars and nightclubs. Of the several announcements made, PM Modi announced some special schemes for farmers, who are considered the backbone of the nation.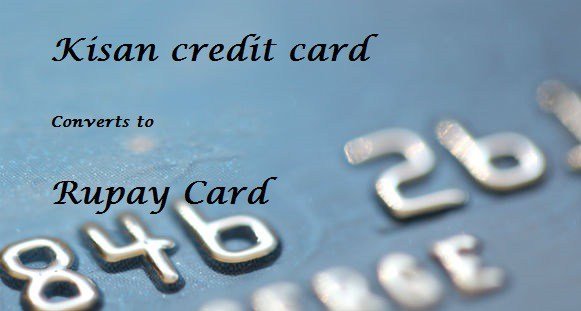 A statement about agriculture in India
During his speech, PM Modi stated that many people in India actually created an atmosphere where people were made to think that the agriculture in the economy has been totally destroyed while more attention has been provided to the business segments of the nation. Modi said that the farmers of the nation have given a befitting reply to those people in at least two ways:
Increase in production of Rabi crops by 6%
Increase in fertilizer usage by 9%
Thanking the farmers of India, PM Modi stated that the government will do everything in its power to ensure that the farmers never face seed and fertilizer shortage and that they receive agrarian loans whenever needed.
Talking on Kisan Credit Cards
PM Modi made a vital announcement and declared the replacement of over 3 crore Kisan Credit Cards with RuPay Debit Cards. He mentioned that this will happen over a period of 180 days or 3 months. So, why this sudden change? The objective is to push for cashless ecosystem. While Urban India is already in the process of embracing cashless economy, it is important to push the rural sector for the same and RuPay Debit Cards is a step towards the same.
Kisan Credit Card is plagued by one crucial shortcoming – it is cash-based. Simply put, Kisan Credit Card offers cash credits. There are two ways the farmers can get hold of cash using these cards:
Withdrawing money from ATMs.
Using withdrawal slips at bank branches.
In case you didn't know, the Kisan Credit Card is designed for providing agricultural loans to farmers for a short period of time. With replacement of such credit cards with RuPay debit cards, farmers will no longer have to deal with cash and they can carry out cashless transactions anywhere they want.
RuPay doesn't have credit cards for now. The company only works in debit cards and has no plans of entering the credit card space which has two major players – MasterCard and Visa.
NPCI's or National Payments Corporation of India's CEO, AP Hota, however did mention that RuPay will enter into Credit Card space but the plans have been deferred for the time being because NPCI is currently in the middle of implementing a new switching platform. The reason for introducing the new platform is that it will allow National Payments Corporation of India to efficiently handle the increased number of card transactions. It was expected that NPCI (the organization that offers RuPay Cards) would launch credit cards in June of 2017.
The introduction of RuPay debit cards for farmers as an alternative to Kisan Credit Cards will allow the farmers to make a move into cashless ecosystem, which is gradually growing in India. The cashless ecosystem has increased manifolds post demonetization and is expected to register greater growth over coming months.
One Big Concern
Though this has not been mentioned by PM Narendra Modi, it is a known fact that usage of debit cards is yet to go a long way because POS machines do not have widespread reach like the cards. This means that with lack of POS or Point of Sale machines will be a serious hindrance for replacement of Kisan Credit Cards and distribution of RuPay Cards.
POS machines are mostly concentrated in urban areas where only 6 major commercial banks dominate the market of POS machines. So, RuPay cards to be distributed to farmers will need a support in form of increased numbers of POS machines in rural markets.
A Bit About Kisan Credit Cards
Kisan Credit Cards have a credit limit of 3 lakhs. The interest charged is 9%. In case the farmers have a very good repayment record for a period of 3 consecutive years, the government subsidized the interest rate by 2%. Institutions offering Kisan Credit Cards can also increase the credit limit depending on two factors:
Repayment history of the farmer.
The crop to be grown. There are various types of crops. Some crops need more fertilizer and seeds are more expensive. They also need more water supply and hence, improved irrigation facilities. Dealing with those crops will mean more money requirements. So, depending on the crops, banks that provide Kisan Credit Cards can actually increase the credit limit for the cards.
Kisan Credit Cards entered the agrarian space back in 1998. Several banks – including commercial banks, cooperative banks and regional rural banks – offer these credit cards.
The suggestion for reviewing Kisan Credit Cards came from a special committee formed by the government. The committee was chaired by TM Bhasin. Mr. Bhasin asked for a way for conversion for Kisan Credit Cards in Debit Cards and Smart Cards. The full information on this committee report and the requested changes can be found on NABARD's website.
A Bit About RuPay Debit Cards
Looking at debit card market in India, RuPay alone takes 32% market share with over 282 million RuPay cards injected into the economy. It has become a major player in debit card market in just 3.5 years, which is a big achievement on its own. Currently, only 3 types of RuPay debit cards are present in market, which are:
PMJDY Card
Classic Card
Platinum Card
RuPay is currently working on going global by shaking hands with Discover – a credit card and debit card company of USA. Discover will help RuPay go global while NPCI will promote Discover cards in Indian market.
With RuPay's partnership or tie up with Discover, RuPay will register a strong growth and worldwide acceptance. From the point of view of farmers, having cards with such widespread access will mean easy transition from cash-based economy to cashless ecosystem. This will also ensure that corruption is taken out of the equation. With no cash transactions, farmers can utilize every penny in more clear and efficient fashion.
Conclusion
Of course, there has been no word on how credit facility will work because RuPay cards are debit cards and not credit cards! Government and NPCI is yet to clarify the same. We have to wait until such clarifications are provided.
Other Articles