How to Link Aadhaar Card with Pan Card (Name in Aadhaar and Pan Does Not Match, Scanned Copy and OTP)
You are possibly already aware that government is in the process of linking Aadhaar Card with Pan Card. The reason behind this move is to create a new India that is free of corruption – a country where people will not get a chance to evade taxes or create multiple identities for committing crime. Aadhaar and Pan linking is just one such step towards unification of identity cards. The question here is, "how will you link the two cards?"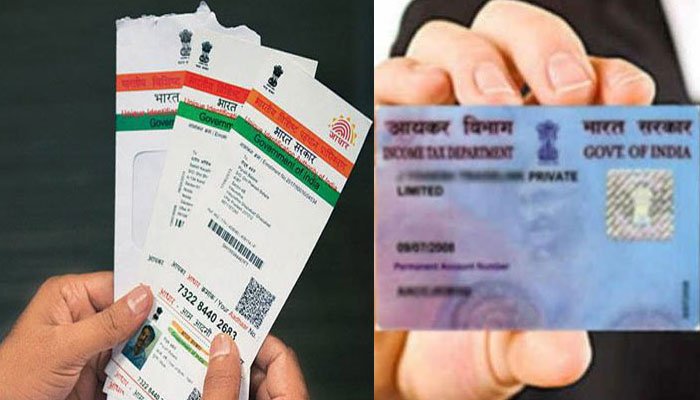 The answer to this question will be answered in the rest of this article. It is a simple process and all you will need is a computer with internet connectivity. That's all! Let's take a look at the steps that are involved in connecting the two cards. Sit back, relax and read!
Link Aadhaar Card with Pan Card – Aadhaar Card Seeding with Pan card
Ensure that you have a working computer that can connect to internet. A desktop or a laptop will work. You can use a tab but not recommended. Neither is a smartphone recommended. In case you are planning on visiting a public cyber café, that is also not recommended.
Assuming that your computer is working and you have a web browser, open it and type in the following URL in the address bar of the browser: https://incometaxindiaefiling.gov.in/.
On this website, you need to register if you haven't already done so. If you have already registered, you will have to login. Select the one that applies in your case.
After you login (or register and login), you will see a small window popping up in front of you. That window you see is basically an invitation to you to link you Pan and Aadhaar. You can either accept that invitation or you can decline the same. We suggest you should accept because if you don't, you get into IT department's radar. That's not good. So, better you accept it. Once you accept, the website will redirect you to a different webpage where you will see all the details that you provided when you completed the registration process.
On this information page, you will be given an option of inserting the Aadhaar Number allocated to you. However, make sure that before you enter your Aadhaar Number and submit, you verify all the details you have provided on the website against the information provided on your Aadhaar Card. The two should match
Assuming that all the information on the website match with information on your Aadhar Card, you will be all set to go. Enter Aadhaar Number in the space allocated and then use the mouse to click on the button which shows the text: "Link Now". Once you do that, a confirmation message will be shown to you stating that the two have now been linked successfully.
Problems regarding linking Aadhaar with PAN (Name in AAdhaar and Pan Does Not Match) | Unable to link Aadhaar with PAN
As per the rules of central government, aadhaar is being used in all governmental activities as it is considered as the authentic identity proof. In recent past when the Indian Tax Department has decided to link aadhaar with PAN.
Tax payers from many region have faced one common issue. This linkage problem arrives only when the names on these two documents are different for same person. E.g. If full name is mentioned on PAN and only initials are mentioned on Aadhaar then this issue can appear.
As for example if someone namely Rajesh Kumar Singh has PAN where his full name is written and on the aadhaar it is only R.K. Singh is written, then the linking will not be possible. This has become a major issue in this case.
Solution to the problem
In a recent report the authorities have published a solution for the problem. Those who are facing such problems now can update their names on their aadhaar card. To update their names same as PAN they need to log in to UIDAI website and upload their PAN card scanned copy in the website as a proof.
After doing this, the name on the aadhaar will be updated automatically. This will not take much time. However if there is any issue performing this task, people can also opt for one time password as well.
Aadhaar Link with OTP
Another way of linking the same is also planned by the authority. According to the officials, if the birth date of the tax payer is same on both the cards, then the tax payer can ask for one time password to solve the issue.
For e-filing the income tax return, aadhaar linking is mandatory. Those who are facing linking issues can log in for e-filing and ask for OTP. To get the OTP one must have had the same birth date recorded on both the PAN card and Aadhaar Card.
Also the tax payers need to have an active mobile number that is registered with the aadhaar card. If the registered mobile number is not active then this process can be bit tough to perform. By doing this process people can file ITR through online process without updating their names.
Need of Aadhaar linkage with PAN
In last union budget 2017-18 Finance Minister of India Shree Arun Jaitely had made an announcement that aadhaar linkage will be mandatory for filing income tax returns. This decision has made to save the country from corruption and heavy tax evasion.
It can be seen in the past that there were many cases where multiple PAN holders have found. They hold multiple PAN cards to evade income tax. To stop such corruption, the authority has decided to link aadhaar with PAN so that people now cannot evade tax and can be tracked easily if there is any fraudulent case.
Just Remember…
There may be a situation where your Aadhaar Card details mismatch with your PAN card details. In that case, you have to get the information on one of them changed. For changing information on Aadhaar, apply with UIDAI and for changing information on PAN, apply with IT Department.
Only the following information can be changed:
Name
Address
Birth date
Gender
Also, there is no need for providing any other document in order to have the two linked. Only a few steps and your Aadhaar and PAN will be linked together. So, what are you waiting for? Get it done now!
Other Articles