How to Link Aadhar with (UAN) EPF Account
As per the mandate of government of the Union of India, it is now mandatory to link Aadhar number with EPF account if an EPF account holder wants to enjoy uninterrupted services.  Staying true to the commitment of curbing corruption from economy, the government of the Union of India is making some historic moves and many of those moves involve Aadhar. EPFO or Employees' Provident Fund Organization, following the government's mandate, made it very clear to its subscribers that Aadhar will be required for all the schemes offered by EPFO, which include Life Insurance, Pension and Provident Fund.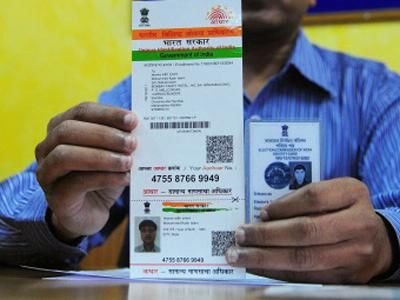 Why has Aadhar been made mandatory?
In case you didn't know, Aadhar is the most robust and complete identity ever created in India. It does not only contain information such as name, birth date, address etc. but also includes demographic and biometric data. Inclusion of biometric information makes Aadhar unique and duplication is completely ruled out.
It is a known fact that government pockets – whether it is at administrative level or just at peon or sweeper level – corruption is rampant. This was one of many problems that government had to deal with and Aadhaar seemed to be the trump card for the same. With Aadhar, government can now track records of every employee and validate his or her identity using biometric data.
What is all this fuss about linking Aadhar with UAN account EPF account?
First thing first, what really is UAN? UAN is an acronym which stands for Universal Account Number. It is issued by EPFO. This UAN is given to every individual who has a PF account with Employees' Provident Fund Organization. The utility of this UAN is that it works as a unique identifier for the PF account holder and when a person having a PF account with EPFO switches job, the UAN can be used for easily transferring the PF account from one organization to another organization without the need for issuing multiple member IDs and then merging them manual. Merger of multiple member IDs is a serious pain and a time-taking process.
Linking Aadhaar with EPF account is same as linking Aadar with UAN account. There is no difference between the two. Hence, don't get confused if someone says "Link Aadhaar with EPF Account" and someone else says "Link Aadhaar with UAN account".
What are the benefits of linking Aadhaar with UAN account?
There are a multitude of benefits associated with linking Aadhar with UAN account. The first problem that EPFO encounters is that of disbursing EPF amount to a wrong person because of absence of improper identification. On top of that there is a problem of time-consuming process of identity verification. Both these problems can be effectively overcome with UAN-Aadhaar linking. Since Aadhar works as a unique identity for every individual, it serves as:
Proof of residential address.
Proof of one's identity.
Proof of citizenship of India.
Apart from that because of presence of biometric information like Fingerprint Scan and Retina Scan, identity of a person can be easily established without the need for going through a lengthy process of verifying various documents. Just one document will do.
Also, since fingerprint is unique to every single person, it cannot be duplicated easily and duplication is a lengthy and time-consuming process. Chances of getting caught is also high while duplicating fingerprints and retina matrix.
As a result, when UAN is linked with Aadhaar, EPFO can easily identify a person and verify whether EPF claims are authentic or not.
On top of that, Government has instructed that a person's bank account be linked with UAN account as well as Aadhaar number. As a result, verification of bank account can also be done quickly and the chances of human error because of incorrect input of banking details like IFSC, bank account number, bank branch name etc. can be eliminated.
So, here is the whole linking chain:
Aadhar links with bank account
Aadhar links with UAN account
UAN account links with bank account
The whole thing can be represented with the image below:
Because of the whole interlinking between Bank Account, UAN Account and Aadhaar Number, it will be easy for EPFO to disburse EPF claim or loan against EPF to the bank account of the person holding the EPF account.
There will be high level of transparency and corruption will be rooted out effectively.
Okay, understood!
Now, the big question…
How to Link Aadhar With EPF Account?
We know you have been waiting for this. So, let us start right away.
Before you start, make sure that you have the following documents ready in scanned (jpeg, jpg or png) format:
A photocopy of your PAN card. The photocopy should be self-attested.
A photocopy of your Aadhar card. The photocopy should be self-attested.
A cancelled cheque against the bank account that you have. This cancelled cheque will provide the details of your bank account. The following details will be present:

The account number.
Your name.
IFS Code of your bank's branch.
Once you have the photocopies and once you have scanned them and have them in digital format, you are all set to link your Aadhar with your EPF account or UAN account. Now, you need to follow the steps mentioned below. Make sure that you follow the steps religiously.
Open your web browser on your computer (desktop or laptop). Type in the following address in the address bar of the browser: https://unifiedportal-mem.epfindia.gov.in/
On this site, you will notice the section called "Online Services". Under "Online Services" you will find an option called "For Employees". Under "For Employees", you will see a link which reads "UAN Member e-Sewa". Click on this link. [Currently (at the time of this writing), the link is not working as the website is under maintenance. The website will be fully functional by March 3, 2017]
Once you click on "UAN Member e-Sewa", you will be taken to a login page. There, you need to provide your UAN as well as your password (you should already have all these details). Basically, you will be logging into the members' area.
Once you log in, you will be taken to your account dashboard. There on the dashboard, you will notice a tabbed menu item called "Profile". Hover the mouse pointer on the "Profile" tab to open the sub-menu list.
On the sub-menu list, find the option which reads "Update KYC Information". Click on that link. Once you click on the link, you will be taken to a new page where you will have to enter you EPF member ID which you currently have.
You will also be asked to select KYC document. You will see a dropdown list. Hold down the "Ctrl" key on your keyboard and click on the following items on the dropdown list:

Aadhaar
Permanent account number
Bank account number / IFSC

If multiple selection is not allowed as mentioned in #6 above, you will get the option of selecting each KYC item separately.
Once you select the KYC item(s), you will be provided the upload option where you need to upload the scanned documents one after another.
Once the upload is completed and the uploaded documents will be shown as a list. They will be held in queue.
Now, you need to wait for the documents to be approved. The waiting period will be 15 days. Go back to the link https://unifiedportal-mem.epfindia.gov.in/ and login to find out the status of the uploaded documents.
That's the entire process of linking Aadhar with EPF account. There's nothing more that needs to be done. In case you are finding it difficult to understand and you need further information, feel free to contact us via our comments section. We will attempt to help you.
Other Articles