Mukhyamantri (CM) Kanya Utthan Yojana 2021 in Bihar Online Apply [Incentives, Financial Assistance, Eligibility Criteria, Application Form PDF Download, Students List, Official Website(मुख्यमंत्री कन्या उत्थान योजना बिहार)
The Chief Minister of Bihar state, Nitish Kumar, with an aim for promoting Women empowerment, social empowerment and educational empowerment had organized a Cabinet meeting. The CM had made some important decisions related to making women self dependent. With an aim to help preserve the girl child health, education, social status and self dependency had proposed the implementation of Mukhyamantri Kanya Utthan Yojana.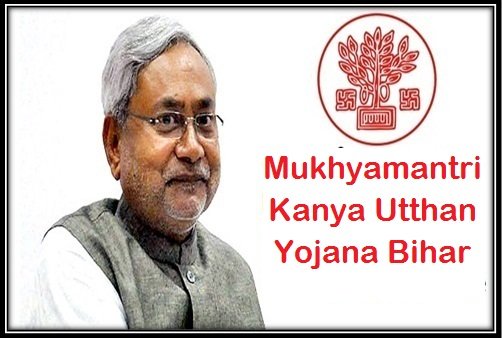 Main aim of implementing this new scheme is to help eliminated the case of girl child mortality rate, encourage girl child birth and immunization within the society. Apart from this, the scheme also aims at eliminating child marriage and early child pregnancy cases in the society. The CM also stated that the new implementation is on Universal platform and will encourage protection of girl child from birth till adolescent age. The benefit will be offered to two girl child within a family.
Mukhyamantri Kanya Utthan Yojana Key features
Aim – The main aim of the state government behind offering incentive is to try and eliminate the chances of child marriage from within the state. So in case the girl decides to get married even before completing her graduation or intermediate education, then she may not be entitled for gaining incentive of Rs 10,000.
Beneficiary – As per the statements made it is obvious that the new scheme would be benefiting over 1.60 crore girl child within the state on yearly basis. To make the implementation of the scheme more successful it is obvious that the state government will introduce a set budget of Rs 60,000 on the scheme for each child.

The amount of Rs 60,000 will be spent over the girl child on annual basis for education and other benefits under schemes including student credit card facilities, Free Bicycle, scholarship programs etc.

To help encourage girl child for education and growth the government offers parents with Rs 2000 incentive at the time of her birth and the amount is given to the parents after she completes 20 years of her age on maturity.

The government has also announced that under the current scheme the sum of Rs 5000 will be given to the parents on maturity of the girl child after 20 years.

The government has announced that the girl child will be given with Rs 2000 as her first installment at the time of her birth. On completion of First year she will be offered with Rs 1000. Once she has completed linking her Aadhar Card with her Biometric for verification then she would be offered with Rs 2000 by the state government.

This will prove helpful to the government for completing the process of immunization along with Biometrics linked to Aadhar card at the time of Maturity.
Rewards promised after 12th final examination
All applicants that enroll under this scheme, after passing the final examination of 12th standard will receive Rs. 10, 000 from the Bihar government.
After graduation
So in the same way if the girl decides to get married only after completing her graduation level education then she will be entitled for claiming incentive of Rs 25,000.

The state government has also announced that the current scheme is valid for women of the state who is married as well. She will be eligible for Rs 25,000 on completion of her graduation as most girls who graduate from colleges are major's and not minors.
Conditions
Amount details
Eligibility

1

Girl child birth

Sum of 5000/-

· Birth time – 2000

· After 1 year – 1000

· After aadhar card linked – 2000

Only For two child

2

For sanitary napkin

300/-

3

Pass inter school exam

10000/-

Unmarried girl

4

After graduation

25000/-

Married unmarried both applicable

Total amount birth to graduation – 54100/-
Mukhyamantri Kanya Utthan Yojana Eligibility criteria
Further declaring the CM also stated that the new introduced scheme will be considered as being universal as it would be applicable for girls and women belong to each and every caste of the society, income or caste and religion.

All college going girls along with those attending the primary and secondary level schools within the state, 12th grade girl students from private or government affiliated sector are eligible under the scheme.

Apart from this the girls studying in accredited madrassas, non-accredited colleges and Sanskrit schools, state and non-state level college students and minors belonging to the society are eligible for registration under the scheme.

Residents of the state – Only those girls will be able to apply for the scheme that live in Bihar permanently and study in a government school, located within the state borders.
Economically backward classes – Mainly those applicants will be able to apply and get the financial benefits under Mukhyamantri Kanya Utthan Yojana who belong to economically weaker sections.
Only two girls from each family – In case there are several girls in one household, then only two will be allowed to apply and receive the financial benefits under this scheme.
Not for government employees – In case, any member of the applicant's family works in any office that is under the state government of Bihar, then she will not be selected for under this project.
Mark sheet related criterion – In case any applicant is interested in receiving a financial reward of Rs. 10,000, then she needs to submit the final mark sheet of her 10th If the applicants desire to receive Rs. 12,000, then she needs to submit the final mark sheet of 12th standard.
Other mandatory elements – Among other mandatory elements, all applicants need to have an active bank account in their name so that the financial benefits can be transferred without any issues. Apart from this, applicants must also have their Aadhar cards as well.
How to get the application form?
An online application processor has been started for the Mukhyamantri Kanya Utthan Yojana. Under this scheme registration has been started from July 25, for which the girl can register the girl application form after logging on and after registering the Mukhyamantri Kanya Utthan Yojana Official Website. Verification will be done by the department after filling the form. The information about the girl's name has been entered in the beneficiary list or not, its information will be sent on mobile. The information related to the yojana has been given in official website, through which the girl can fill online application forms. This application form is to be filled in two ways; its information is available on the online portal.
Documents required for application
Residential or address proof – As only residents of Bihar will be able to apply for this scheme, every candidate needs to submit legal documents which support her residential claims.
Voter ID of the applicant – To offer enough details for background verification, applicants need to offer copies of their voter ID cards.
Aadhar Card of the applicant – It has been mentioned in the scheme draft that applicants must have their Aadhar cards as well. If this official document is not submitted, then the applicants will not be selected.
Account details – As all financial reward transactions will be made via banks. Thus, all applicants have to submit official documents, which contain account related details.
School certificate – As only students will be able to apply for this project, producing school certificates is a must along with other documents.
Mark sheets – Applicants need to offer their mark sheets for class 10th or 12th Depending on this, the applicants will get the specified amount.
Recent photograph – Attaching a recent photograph of the applicant is also mandatory while filling in the application form.
Financial background of applicants – Only financially weaker sections can apply for this help. So, providing such official documents is a must.
Sanitary napkin benefits
The state government has also announced to offer the girl at the time of adolescent age with sanitary napkins. This amount has therefore been increased to Rs 300 per child from Rs 150 under earlier initiative.

The main aim of the state government after implementing his scheme is to help check with the girl child marriage and female Foeticide. This will also prove helpful in determining the increasing sex ratio of girl child to boy child and education parents to help encourage girl child from being educated.

Under the same scheme the state government also plans to educate the parents of the girl child to offer them with all types of vaccines and immunization against diseases and conditions. This move will further prove helpful in eliminating the chances of Female Child mortality rate.
Increase in Uniform rates
| | |
| --- | --- |
| State education ministry – for Girls studying in 1st and 2nd Grades | Increment in financial assistance to be offered Rs 600 from Rs 400 yearly |
| State education Ministry – for Girls from 3rd grade to 5th Grade | Increment in financial assistance to be offered Rs 700 from Rs 500 yearly |
| State education Ministry – for Girls studying in 6th Grade to 8th Grade | Increment in financial assistance to be offered Rs 1000 from Rs 700 yearly |
| State education Ministry—for Girls studying in 9th grade till 12th Grade | Increment in financial assistance to be offered to Rs 1500 from Rs 1000 yearly |
Budget allocation
At present it is true that the state government has already set a budget of Rs 840 crore for being implemented for the education of the girl child along with other benefits like social welfare and health. The government has also announced to invest a sum of Rs 1400 crore under the scheme.

So with this the government will be planning itself for implementation of Rs 2221 crore under the scheme for benefiting the girl child.
The local state government has ensured that it shall be taking all possible steps to help eliminate child early marriage, mortality rate and other issues that are anti social for girl child. This would help in improving the social status of the girl child.
Others Articles-