Mukhyamantri Saral Bijli Bill Scheme and Mukhyamantri Bakaya Bijli Bill Maafi (Electricity Waiver) yojana  in Madhya Pradesh 2020 Eligibility Criteria, Download Application Form, Registration Process, Certificate of Acceptance (प्रमाण पत्र ) (मुख्यमंत्री बकाया बिजली बिल माफ़ी योजना) (मुख्यमंत्री सरल बिजली बिल स्कीम )
There are many areas in the nation that still don't have electrical connection. The number of such households is more in rural areas than in cities. But many people cannot afford permanent power connection as they don't have financial capability to pay the bills. The Madhya Pradesh government has introduced a new scheme for poor people, living within the state. It will also include those who are registered labors. Under this scheme, they will be able to get power at low prices, and state authority will also waive off outstanding bills of selected applicants.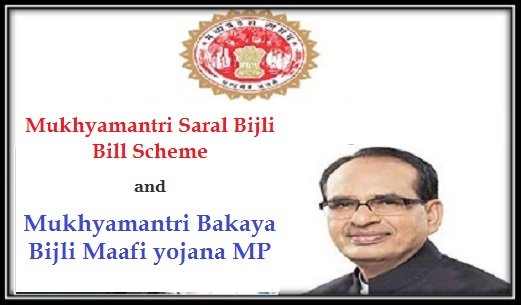 Launch details
| | |
| --- | --- |
| Name of the scheme | Mukhya Mantri Saral Bijli Bill & Waiver Scheme |
| Launched in | Madhya Pradesh |
| Launch date | June 2018 |
| Launched by | CM, Shivraj Singh Chouhan |
| Announced by | Narottam Mishra |
| Official start of the scheme | June, 2018 |
| Official applicable date | July, 2018 |
| Supervision of the scheme | Energy Department of Madhya Pradesh |
| Under | Mukhyamantri Jan Kalyan (Sambal) Yojana |
Key features of the scheme 
For Saral Bijli Bill Scheme MP
Free electricity connection – Under this project, the state authority is offering poor people a chance to acquire an official power connection in their homes.
Payment of electricity bill – The payment will depend on the amount mentioned on the power bill. If the household bill is less than Rs. 200, then the connection holder will have to pay it. In case the bill amount crosses the Rs. 200 mark, the connection holder needs to pay only Rs. 200 while the outstanding amount will be paid by state government as subsidy.
Development of poor – The scheme has been developed mainly for the people who fall below the poverty line. With this project, poor people will be able to get easy power connection without much expenditure.
Electrical gadgets to be used – All households, getting power connection under this project will be able to use a fan, television and bulbs in their homes. Only these gadgets will be permitted.
Total number of beneficiaries – The scheme suggests that the state government will be able to reach out to as many as 88 lakh beneficiaries. These poor people will get easy connection to power.
Mukhyamantri Bakaya Bijli Bill Mafi Scheme
Waiver of power bill – Under this scheme, all such households, which have not paid the outstanding power bill, will no longer have to worry about its payment. The state government will waive off the entire sum.
Distribution of waived amount – The waiver scheme will be done on a 50-50 basis. No matter what the amount is, the state authority will pay only 50% of it under the waiver scheme, while remain 50% will be given by the power supply and distribution company.
Total number of beneficiaries – The state authority has clarified that around 77 lakh MP residents will be able to get the benefits of this waiver scheme.
Eligibility Criteria for the scheme
Residential criterion – Only people live within the state on a permanent basis will be allowed to get the benefits of this scheme.
BPL and registered labors – The scheme will only allow people who fall below the poverty line to get these benefits. Apart from this, registered labors, both in rural and cities will be allowed to get these perks.
Rate of power consumption – Only those people will be able to receive the benefits under this project, who consume less than or equal to 500 watts of power on a monthly basis.
Proper power bill – Any person, who is interested in getting the benefits of power bill waiver scheme, must possess a legitimate power bill to start with.
CM Jan Kalyan Yojana beneficiaries – All candidates who are already enjoying the benefits of CM Jan Kalyan Yojana or have been selected, will automatically receive the benefits of power bill scheme.
Not for heater or AC users – In case the interested applicant has installed any air conditioning machine or room heater in the house, he/she will be barred from getting the benefits of this scheme.
Meter reading – Any applicant, who has a proper power connection and meter, installed in his/her home, then the meter reading will be recorded and highlighted in the official bill. Accordingly, the payable amount will be worked out.
Rural area implementation – Several homes in villages don't have proper power connection. They will have to pay the bill according to the rules laid down under the scheme. In case such houses don't consume more than 500 watts, they will be billed according to the laws of MP Electricity Regulatory Commission.
People tangled in a tussle with power company – In case, people get involved in legal battle with the power supply and distribution company, they will also be able to apply and get the perks of this scheme.
Households where connection has been cut-off – Apart from these, there must be several houses, which used to have power connection, but due to inability of paying power bill or any other reason, the distribution company has cut-off their power lines. The state will allow such households to apply for this scheme as well.
Documents necessary for the application
Residential certificate – As only legal and permanent residents of MP will get the chance to enroll under the scheme, they will have to submit their residential papers.
Identification documents – All applicants must offer documents, which provide data about their identification. For instance, furnishing the Aadhar Card is a must.
Electricity bill – In case, the applicants desire to get the benefits of power bill waiver scheme, they need to submit a copy of their existing electricity bill.
BPL and labor certificate – As the scheme will only allow poor people and registered labors to apply, it is mandatory for the applicants to offer their BPL certificate or labor registration card for background check.
How to download the application form?
To attain the benefits of Mukhya Mantri Saral Bijli and Waiver scheme, applicants need to log on to the official website. From this site, they will receive the application form. To get access to the enrollment form, candidates need to click on the link http://www.mpenergy.nic.in/sites/default/files/paripatra2.pdf. Once the page opens, all they need to do is download the form and get a print out.
How to apply for the scheme?
All interested applicants will be able to get their hands on the official application form of the scheme from the authorized site that is maintained by the MP government. To get to this site, one has to click on the link http://www.mpenergy.nic.in/en.

After downloading the application form, applicants need to get a print out of this document.

There are several sections in the application form. It is mandatory for the applicant to provide all these details correctly.

Once all fields have been filled in properly, the candidate needs to attach all documents with it.

The form has to be submitted at the nearest office of the state power department.

Once the form has been submitted, it will go through several scrutiny processes.

Only those candidates who meet all requirements perfectly will be allowed to get the benefits of this scheme.
How to download the certificate?
All applicants who are willing to apply for the electricity waiver scheme must collect their "Acceptance Certificate" or "Praman Patra" from the official site. They need to click on the link http://www.mpenergy.nic.in/sites/default/files/paripatra2.pdf and download the certificate along with the application form.
Where to submit the certificate?
Once the application form and acceptance certificate has been acquired, it is time to fill in the details and submit it before the last date of application. All applicants need to get to any electricity or power department office, located in their vicinity. It is here that they need to submit the documents.
Budge for the scheme
A scheme as elaborate as this will put too much pressure of the state treasury. But the state is ready to tolerate this expense for the betterment of common people. For the implementation of this project, it has set aside a whopping Rs. 5179 crore. For additional subsidy, the CM has already announced an amount of Rs. 1806 crore.
A lot rides on the success of the implementation of this electricity subsidy scheme. It will make sure that people from financially weaker sections get a power connection without worrying about any connection fee payment. Apart from this, state will also offer relief to poor people from facing troubles of paying high electricity bills.
Other Articles –