Mukhyamantri Yuva Swavalamban Yojana D2D scheme Gujarat Check Scholarship Status List Eligibility Criteria New Courses Online Application Form Process Online/Offline Course Documents Renewal Form @mysy.guj.nic.in 2020
State governments must encourage students to pursue higher education. But not all can do this due to their inability of paying course fee. With the implementation of Mukhyamantri Yuva Swavalamban Yojana in Gujarat, the state authority has offered something for all students. The grants start from class 10 and goes up to college or university level. It has been targeted towards giving poor yet meritorious the boost that they need to attain their dreams of higher education.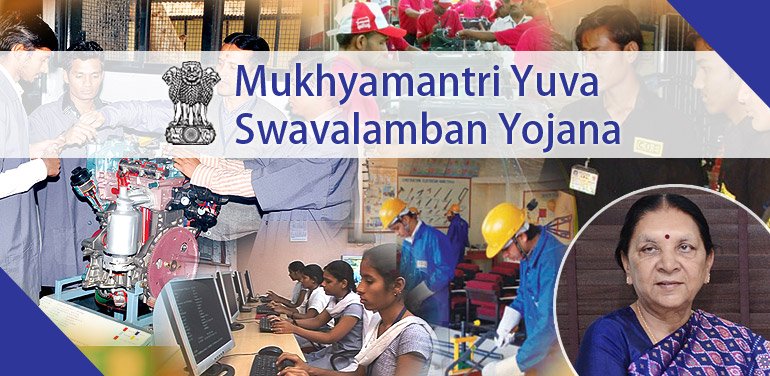 Launch details
| | |
| --- | --- |
| Name of the program | Mukhyamantri Yuva Swavalamban Yojana |
| Announced by | CM Vijay Rupani |
| Launched in | Gujarat |
| Year of implementation | 2017 |
| Official website | https://mysy.guj.nic.in/ |
| Registration begins on | 1st Sept |
| Registration ends on | 31st Oct |
Key features of the scheme
For every student in Gujarat – Each and every student who is a resident of the state, and has opted for higher education within the state will be able to opt for this special scholarship.
Additional educational assistance – To ensure that students of class 10 and 12 can purse their education without any hindrance, the state will offer money for purchasing school supplies and books.
Funded by state – All financial requirements of this project will be meted by the Gujarat state authority. Estimates place the initial budget of this scheme to a whopping 1000 crore that the state will have to supply from its coffers.
For government employee's kids – If any applicant's mother or father is associated with state government job, then he/she will receive at least 5 years age relaxation.
For developing backward regions – Areas, where academic institutes do not possess hostel facility; students will receive financial support from state to pay rent, in case they have to stay away from home. Rs. 1200 will be offered to each candidate for 10 months.
Eligibility criteria of the scheme
Residents of Gujarat only – To become a scholarship holder, the applicant must be a legal resident of Gujarat state.
Family income specification – The overall family earning of the applicant's parents should not go above the 4.5 lakh mark, during every financial year.
For approved subjects only – In case any applicant is pursuing a subject that has receive an approval from state education department, will receive financial assistance.
Additional benefits for state government employees – Special financial grant will be offered to those students, studying in class 10 and 12, provided they have scored 90% or more in their last final exam.
Details about the scholarship
Special arrangement for dental and medical research applicants – Grants will be given to any candidate has succeeded in cementing his/her place in the medical and/or dental research and treatment institute. Every such applicant will receive Rs. 10 lakh from state authority. The cash will be paid in installments, over 5 years.
Other courses to be covered – Apart from medical, applicants studying or getting training in subjects like homeopathy, nursing, pharmacy, physiotherapy, Ayurvedic medicine and engineering will also receive scholarship. But these applicants will receive a sum of Rs. 50,000 only if they bag a seat in state government institutes.
10th and 12th standard toppers – Every state topper in Gujarat who secures 90% or more, will bag Rs. 25,000. It is a token of encouragement that will be given only if the applicants opt for higher education.
A, B.Ed and B.Sc grants – For other students that take admission for higher education under B.A, B.Ed or B.Sc, will get Rs. 10000 per year. In case 50% of the course fee is less than Rs. 10,000, then the state will pay that amount. Candidates of private or government colleges will be able to get it.
More benefits for students – State government has promised to pay the cost of books and supplies. Apart from this, money will be given for uniforms, or state run organizations will make these dresses at low cost.
Capping unprecedented hike in tuition fee – Several students cannot afford to take admission in private institutes due to very high tuition fee. The state authority has taken it in its stride to ensure that no private organization will be able to increase any course fee too much.
List of course
In order to attain details about the many courses, which have been listed under this grant scheme, one must click on the link https://mysy.guj.nic.in/Noticeboard/Courses%20List%202017-18.pdf.
Documents required for application
Address proof – As only pupils of Gujarat will stand a chance of getting this scholarship, submission of the residential documents, issued by Gujarat state government is a must.
Notarized affidavit – Submission of a notarized affidavit on Rs. 20 non-judicial stamp paper is a must for all candidates.
Admission and tuition fee related papers – As the scholarship will be offered to students who are opting for higher education, they need to showcase new course admission, and tuition fee documents.
Hostel admission documents – The state will also offer money to the applicants, which must be utilized for payment of hostel fee. To attain this, hostel accommodation papers and fee slips must be submitted.
Family income certificates – Due to the presence of financial criterion, all applicants must produce certificates to ensure that their parents' income does not cross the specified mark.
Bank account credentials – Money transfer will only be done via bank account. Thus, it is necessary that either the applicant or his/her parents have an account in any bank. While applying for this grant, the account details must be provided.
How to apply for the scheme online?
For online application, one must get to the authorized page, and this can be done by clicking on https://mysy.guj.nic.in.
As soon as the home page appears on the screen, applicants need to initiate the application procedure by clicking on "New Application" option, placed at top right area.
First timers will be able to get to the application form by clicking on the link "If you have not registered please click for Registration."
Clicking on the above mentioned link will trigger the site to generate the registration document on the screen.
In case an applicant has completed the registration procedure, he/she can directly access the main page by typing in the login ID and password.
But new applicants must mention data like class, education board, passing year, course level, name of course stream, birth date, phone numbers. After this, applicants must generate the unique password by clicking on "Get Password."
Once candidates possess the password, it is time to log in officially and get their hands on the next part of the registration form.
Here, details like father or guardian's name, residential data, family income, bank account number and others must be typed in.
After rechecking the details to rule out any errors, the applicant needs to click on "Submit" button.
With the successful submission of the form, the applicant will receive a unique code. This code will come in handy to track the application status.
How to apply for the scheme offline?
Along with online application mode, offline submission of application is also possible. If any person is interested in this method, then he/she needs to download it from the link https://www.vijay-rupani.in/wp-content/uploads/2017/06/mysy_form.pdf.
After getting a print out, it is time to fill it up with correct information. All fields have been highlighted, and the applicant needs to write down the info alongside.
All personal as well as academic details must be filled in.
If the applicant is already receiving any scholarship, then that info must be written down as well.
After filling it properly, it is time to paste a recently clicked photograph of the candidate. It must be of passport size to fit in the box. With this, all necessary papers, for authentication of claims, must be pinned up with the application form.
Once everything has been rechecked, it is time to submit the application in the designated state government office.
Renewal form
All those candidates who desire to submit the application for renewing their claim on the grant will have to click on the link https://mysy.guj.nic.in/Frm_Stu_Login.aspx. This link gives one access to the home page. Here, the applicants must type in the necessary details like education board, admission year, stream, passing year, enrollment number and password. Once these have been typed in, it is time to click on the Login button. After successfully logging in, one can submit the renewal application form.
How to check the scholarship status
Once the application has been submitted, each applicant will be able to check the updated status. It is also done online, by logging on the authorized site. To get to this site, the person has to click on the link https://mysy.guj.nic.in/.
The direct link to check the status is located at the bottom of the home page. The link is marked as "Check Status of your Application and Upload Pending Documents."
As soon as the person places the mouse pointer on this link and clicks, the site will open the page from one can check the status of his/her form.
When this page opens, you will see several options. One must click on the drop down arrow alongside "Select Application" option. There are two options to choose from – Fresh and Renewal.
After that the applicant needs to pick one of the three standard options – 10th, 12th of DtoD. Any applicant who opts for DtoD must pick respective options later on.
Then it is time to highlight school education board and the year when the applicant passed the class.
After that, it is time to type in the details of Seat Number and the respective Password.
Once all these data has been entered, one must click on the link marked as "Get Student Details."
As soon as this link has been clicked on, the system will search the data, and highlight the current status of the applicant.
Self-declaration form
It is mandatory for every candidate to submit a self-declaration with the application form. To attain this self-declaration document, the candidate must click on the link https://mysy.guj.nic.in/Noticeboard/Format%20of%20Self%20declaration%20form%202017-18.pdf.
How to check list of rejected applicants?
Students must also keep a close watch on the rejection list. For this, they can click on the link https://mysy.guj.nic.in/Frm_stu_rej.aspx. In case any candidate's documents are missing, his/her name will be uploaded on this list. There are two other rejection lists – Totally Rejected Application Phase 1 and Totally Rejected list for Higher Education for the admission year 2015 – 2016.
Helpline number (Contact Details)
Any applicant or interested candidate can attain more infarction about this scheme by calling on the helpline numbers 079-26566000 and 7043333181. All calls will be answered by executives from 10:00 AM in the morning till 6:00 PM in the evening. Another mode of contact is by logging on to the site http://mysy.guj.nic.in.
The state authority is positive about the impact of this program. The mission of the Gujarat government is to reach out to as many students as possible. If youngsters progress in academic fields, then it will assist the state in attaining overall development. So, state education department is leaving no stones unturned in ensuring proper implementation of this elaborate scheme.
The things we learnt:
| | | |
| --- | --- | --- |
| Serial No. | Things to be known | This is what and why |
| 1 | What is this new D2D scheme? | It is a scheme under which students who study technical courses will be given a certain amount of concession. |
| 2 | Who will be benefited from this? | The students who want to pursue higher education in technical courses. |
| 3 | Which course will be under effect? | The engineering degree and diploma courses under the state certified and privately owned institutions. |
| 4 | What are the eligibility and/or concession norms? | All the eligible candidates for the degree and diploma courses will get 50% or Rs 50,000 concession. |
| 5 | What is the need for this new course? | Around 20,000 seats remained vacant in both engineering degree as well as diploma course in 2015. |
Other Articles