National Digital Health Mission 2020 in Hindi, (NDHM, PM Modi Health ID Card, Website, Registration, Launch Date, Documents)
The central government of India has planned to distribute the health ID for the citizens of India. And for that they launched National Digital Health Mission. The scheme will be a health care scheme and it will take ones past medical records into account. National Health Authority will be responsible for this particular mission. Under the scheme the central government of India is planning to give a proper shape to National Health Data Management Policy. Currently the policy is waiting for approval from Union Health Minister Harsh Vardhan. Here, in this article you are going to get a glimpse of the scheme.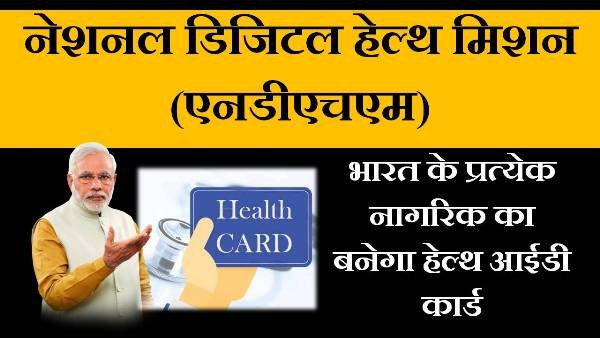 Nari Web Portal for Women Empowerment Schemes.
National Digital Health Mission Launch Table
| | |
| --- | --- |
| Name of the scheme | National Digital Health Mission |
| Launched in | India |
| Launched by | Central Govt. of India |
| Announced by | Prime Minister Narendra Modi |
| Date of announcement | August 2020 |
| Target people | Citizens of India |
| Official Portal | ndhm.gov.in/ndhb |
| Helpline Number | NA |
National Digital Health Mission Key Features
Objective of the scheme– The scheme under National Digital Health Mission, the scheme is planning to build an infrastructure that will depend on the digital health systems. Every person's health data will be stored in the data directory.
Health card for everyone– The aim of the scheme is to provide ID to every individual citizen of India.
Benefits of the card– With the help of the health ID card, one can save the information related to doctor appointments, details of their treatment, details of prescription, medical reports, discharge summaries, etc. so that you get the appointment for the follow up treatment.
Support team- In order to get the work done smoothly, NDHM will get the support by centralized IT infrastructure. It will ensure that the data are stored and secured, and the work will be done with the beneficiary's consent.
Transparency– under the scheme, government will remain transparent regarding the health service and data security. They will make sure that health care service at its best.
Sustainable development– Under the scheme, government will make sure there is an enterprise level system is formed so that a sustainable goal is set.
Affordable healthcare- Under the scheme, the health care service will be affordable so that everyone can afford the service. One can choose health care service from both private and public health care service. Under the scheme you can easily exchange data while availing health care service in a different state.
Medical insurance– Under the scheme, NDHM will also provide health insurance for every beneficiary of the scheme.
Preventive health care– As there will be advanced data analytics, so government will be able to make more policies that will strengthen the preventive health care system.
Benefits for the researchers– Healthcare and medical researchers will get immense opportunity to do research projects with accurate data available.
Swachh Bharat Summer Internship Program Scheme – Application Process.
Some Essential Factors Related to National Digital Health Mission
Health ID – A unique heal ID card will be provided to all individual and through it medical record will accessible.
Digi doctor– Details of the doctors will be digitized with their name and qualification, specialization, registration number, etc. Beneficiary will get all the information on the digital platform.
Health Facility Registry– Under the scheme there will be all types of health facilities and for that both government and private hospitals will be registered under the scheme. People will get to where to get a specific health care service.
Personal Health Records- There will be personal health record directory where one can upload and update personal health condition.
Electronic Medical Records– This will deal with a patient's medical history that will contain treatment records as well.
How to Get a Health ID Card
Once NDHM becomes functional, you will get health card from your nearest community health care centers, hospital, wellness center. You can also get a health care card from an individual with National Health Infrastructure Registry.
Digital India Internship Scheme by MEITY – Stipend 2020.
National Digital Health Mission Required Documents
Identity proof– In order to apply for the health card one has to submit ID proof like Aadhar and voter ID card.
Birth proof– You need to provide your birth proof at the time of registration.
Caste certificate– If you belong to any marginal class then, you need to submit your caste certificate.
Handicapped certificate- People having physical and mental disabilities have to submit relevant certificate although this is optional.
How to Access Health Records
Once your health ID card is generated you will be given with a user ID and password through which you can access to your profile. You can update your health related data, and also get to know about health care facilities available in the country. You can register at this link.
Know about Swachh Yug Mission.
National Digital Health Mission Key Highlights
Focusing union territory- Under the scheme the National Health Authority is focusing to bring technological platform through a pilot project to all the union territories.
Digital health ecosystem– It will make sure that sensitive data is protected on the digital platform. The organizational system will take care of Personal Health Identifier, the electronic health and medical records.
Health identifier– A web application will be launched and that will create a universal unique health identifier. It will not be linked with Aadhar card.
Verification of doctor's records– The doctors will have to log in to upload their data. The data will be sent to State Medical Council for approval as part of national digital health mission.
Online appointment– The doctors will be available for digital consultation and one will get online appointment.
It is evident that with the help of this scheme the National Digital Health Mission will take a bigger form. It will make sure that every citizen of this country gets required health care service. With the availability of data it will be easier for both the patient and doctor to get an overall picture of the patient's health condition. The easy flow of data will improve the health care structure of the country. The process will also reduce the cost of health care as there will health insurance for everyone.
FAQ
Q : What is National Digital Health Mission ?
Ans : It is a step taken by govt. of India to digitize the health care system.
Q : Who are the beneficiaries of the scheme ?
Ans : Citizens of India.
Q : Where to apply ?
Ans : You need to apply to nearest hospital or health care center.
Q : What is the last date of application ?
Ans : There is none.
Other Links –