National Policy for Women (Single Women) [Tax Slab and Health Card]
Despite being in the 21st century, still we belong to male dominating society. Still today women are considered to be in the category where they don't get to enjoy the cream of life. Especially a single woman finds it tough to survive in such society with a bunch of rules and regulations that facilitate men only. Looking at the current scenario Indian government has announced a new policy for the women in India in recent time. There will be a number of facilities that will be implemented for women only.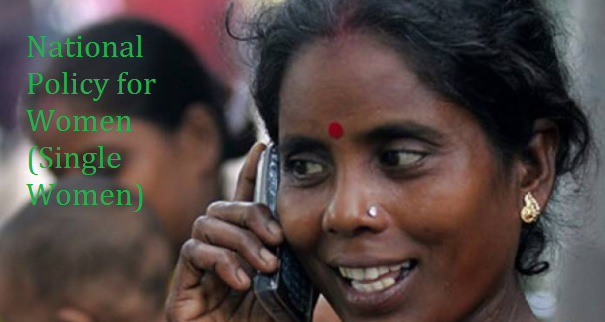 The national policy for women:
The policy is lead by the external affair minister Smt. Sushma Swaraj. A group of ministers are being appointed to shape up the national policy for women. According to the officials this is one of those policies that will be implemented on urgent basis.
The facilities for women:
According to the policy declared by the Indian government, women, especially single women will get a bunch of facilities in coming year.
First of all the central government is keen to lowering the income tax for the women. In recent times study says that in last 10 years the percentage of single working women in India has been increased by 39%. This makes the government to revise the income tax slabs for women.
Not only income tax reduction but also the government is keen to provide tax exemption in women health related products like sanitary and menstrual hygiene items and others.
Along with tax exemption there will be a special health cards. These cards will be Aadhaar linked. With the help of these health cards pregnant ladies can have free health check-ups and also other diseases.
These health cards will be applicable mainly for the treatment of cancer and anaemia. The growing rate of cancer and anaemia in women should be treated properly. For the pregnant women there will be cashless treatment available under this policy.
Other ailments and their treatments are also listed under this Health Card for women. Women who are working or not working can utilise this card for their treatment. The details of the card will be declared later.
There will be ample public toilets for women across the nation. Also women who are survivors of domestic violence, gender based violence and other will be given proper shelter, counselling and treatments along with legal help wherever is needed.
This policy will also be considered NRI women and their need. This national policy for women will help to encourage Indian women across the globe to participate in protection of Indian women. Also it will have facilities for the women who are being married and forced to live outside India. There are a lot of NRI women who keep facing domestic violence in their marriage, will also be facilitate under this policy.
Other plans
Along with these mentioned facilities, the government is trying to increase the work share of the women to 50% in the nation. As mentioned that the rate of single women has immensely increased in last 10 years, central is now paying extra attention to make them comfortable.
The participation of male citizens in such policy implementation has increased. There are some of the urgent plans like facilities for widows, pregnant ladies and elderly women are to be implemented soon.
Objective of National Policy for Women
Central considers that women, especially who are single, widow, elderly or medially weak are being compromising their lives every now and then. They are being neglected in every step due to lack of legal or proper official regulation. This policy will help them to boost up their life and survive properly.
Other Articles