NTR Nirudyoga Bruthi Scheme Notification in Andhra Pradesh -Unemployment Allowance Grant Scheme AP Application Form, Date, Online, Eligibility Criteria and Registration (ap.gov.in)
Experts suggest that unemployment is an issue that undermines the progress of any nation. The same situation prevails in India as well. It is here that the importance of unemployment schemes comes to the rescue. After several states, Andhra Pradesh has also designed a new unemployment project for people of this state. The name of this project is Nirudyoga Bruthi Scheme or the Unemployment Grant Scheme. Hereby, all educated but jobless candidates will receive a certain amount from the state government.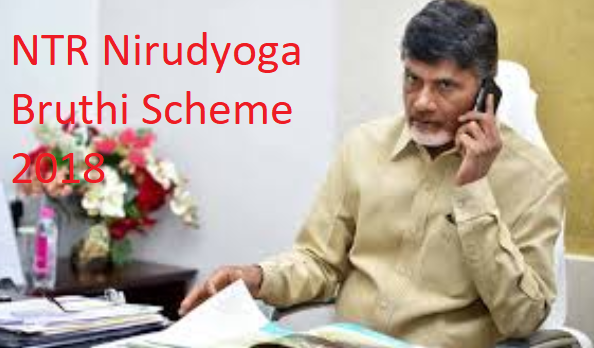 NTR Nirudyoga Bruthi Scheme 2018 in Tabular Format
| | |
| --- | --- |
| Name of the scheme | NTR Nirudyoga Bruthi Scheme |
| Announced in | May 2017 |
| Official launch date | July 2018 |
| Implemented in | Andhra Pradesh |
| Announced by | Mr. Yanamala Rama Krishnudu (FM of AP) |
| Monitored by | Youth & Unemployment Benefit Ministry (AP) |
| Ministry under | Mr. Kollu Ravindra |
| Target beneficiaries | Jobless youth residing in AP |
Key features of the scheme
Assistance for the unemployed – The state authority must encourage unemployed youth to come out of their situation. For that it needs to offer financial as well as training related assistances. With Nirudyoga Bruthi scheme, it will do just that.
Financial grant per person – As per updates, state government will no longer offer different amounts for people with different degrees. It will now offer a flat grant amount of Rs. 1000 for all candidates that resister.
Frequency of the payment – The redundancy grant will be received by registered candidates on a monthly basis.
Scheme tenure – Till now, it has been announced that this project will remain operational for 2 to 3 years. But it might be changed in future, as per requirements.
Highlighting interests – The registered candidates will also be able to pick those subjects, which attract them. Accordingly, the state will place them in professional training classes.
Skill development – Academic qualification is not enough to make the cut in this competitive job market. A candidate also requires vocational skill and training. With this scheme, state will provide adequate skill development centers for the registered candidates.
Generation of jobs – With the implementation of this project, AP government will also be able to put more stress on the creation of new job opportunities.
Launch of job portal – Apart from the above-mentioned features, state government has also launched a new portal for registration of unemployed youth. The portal will contain their educational and vocational interest related details. Any company, located in the nation will be able to access these details, and pick candidates accordingly.
Implementation model – Unlike other states, the implementation of this project will happen as per the guidelines of the "Saturation model." It will increase the chances of its success in Andhra Pradesh.
Eligibility criteria for the scheme
Only for state residents – All decisions regarding budget and implementation will depend on the state. Thus, people will Aadhar card, issued from AP and those with legitimate domicile certificates will get the permission to register.
Age criterion – There has been some changes in the age criterion as well. The update age bracket, for applicants is from 22 to 35 years.
Educational criterion – Earlier, three different academic categories were highlighted. Now, it has been announced that applicants need to possess any degree or equivalent diploma certificates.
Financial background – All aspiring jobless candidates must belong to BPL category. They need to possess adequate legal certificates to prove their claims.
Applicants per family – Earlier, it was announced that one person from every family will be able to apply. After updates, state authority declared that the number of applicants has been increased to two from each family.
Preferred applicants – It will be better if the interested applicants have registration in the Andhra Pradesh Employment Exchange. These candidates will be selected over those without this registration.
Who will not receive the benefits?
Any applicant who does not meet the above mentioned criteria, or is associated with a profession that generates income will not be able to submit any application under this project.
Application process for the scheme
The final application for attaining this financial benefit can be done offline as well as online.

Before that, each candidate needs to get the approval from officers of Andhra Pradesh.

For this, some documents must be submitted and forms need to be filled in.

Verification will take place on two levels. Preliminary verification will be conducted by Employment Department of Andhra Pradesh. Second verification will happen at the Employment Exchange office of Andhra Pradesh.
Budget for this scheme
Earlier, the state authority mentioned that the implementation of this scheme will cost around Rs. 500 crore. Accordingly, it has set aside Rs. 390 crore for offering adequate training to jobless candidates in the state. Once the committee revised the data, it announced that the state will have to shell out around Rs. 1200 crore from the coffers, from the implementation of this project.
Unemployment puts a heavy toll on the overall progress of the state as well as the nation. Redundancy schemes are not new in India. Several state governments had implemented and failed to achieve satisfactory goals. Thus, Andhra Pradesh government has changed the planning model and implementation patters. It is hopeful that this alternation will produce positive outcome and curb the menace of joblessness within the state.
Other Articles –