Pradhan Mantri Gram Parivahan Yojana
Government of India has come up with a new scheme called the Pradhan Mantri Gram Parivahan Yojana (PMGPY) under which the government will improve and regulate transportation facilities in rural and remote areas, where there is a need for it. According to reports there are still many places where there is no transport available, and people have to walk miles before they can avail transport facilities. To solve this problem PMGPY was suggested by Prime Minister of India Mr. Narendra Modi.
Scheme Name
Pradhan Mantri Gram Parivahan Yojana
Launched Date
2000
Launched By
Central
Conducted By
Union transports Minister
Govt. Name
NDA
 

Target

Ruler Transport
Who Announced
Atal bihari Vajpayee
Country
India
Recently Launched By
Mr. Nitin Gadkari in Maharashtra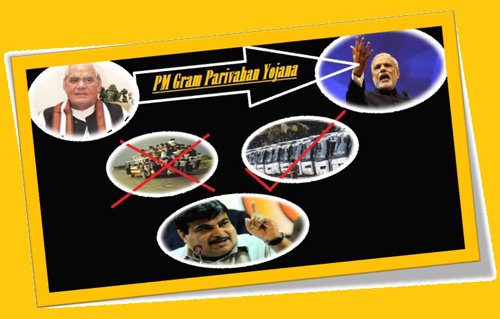 Pradhan Mantri Gram Parivahan Yojana Key Features
The PMGPY is a rural transport program which will provide transportation facilities in remote villages and will also generate employment for the locals of the village or area. The project will take off from Bilaspur district in Chhattisgarh and will cover around 20 areas of the North-eastern states.
Under this scheme, popular rural vehicles will be sold at a subsidized price. A subsidy of 30-35% will be given to passenger vehicles which can accommodate up to 10-12 people. These vehicles will be used to connect remote villages. The locals can buy these vehicles at the subsided rates and then use it commercially (for connecting remote areas only). Around 80000 commercial passenger vehicles will be provided in the rural areas.
Under the scheme, the government will prefer women self-help groups, tribal, and BPL families for running these transport services. This would provide them employment and a basic means of income.
Having built the roads under the Gram Sadak Yojana, the government now wants to use these roads for the benefit of farmers, workers and students by providing easy transportation facilities.
| | |
| --- | --- |
| Questions | Answers |
| Who launched the Gram Sadak Yojana? | The scheme was launched in 2000 by the NDA government, under the leadership of Atal Bihari Vajpayee. |
| What was the purpose of launching it? | The main purpose of the scheme was to provide roads and connectivity to all the villages that remained unconnected until then. |
| How well the Yojana did? | Under this program, many roads were constructed that connected many remote areas. It gave proper roads to many tribal and desert areas, hills, etc. The program has made remarkable achievement. |
 Pradhan Mantri Gram Parivahan Yojana Aim
The Pradhan Mantri Gram Parivahan Yojana has been launched to complement the Pradhan Mantri Gram Sadak Yojana that was launched in 2000. Under this Yojana many roads have been built in many rural areas, which has made travelling in and out of these areas easier and possible. But then just having roads is not enough. Due to lack of transportation, people have to walk a lot before they can get any transport facility. To solve this problem, the new scheme will regulate transportation in such remote areas. This scheme also aims in generating employment in these places by providing public vehicles at cheaper prices. It will generate employment opportunities for the locals.
Benefits under Pradhan Mantri Gram Parivahan Yojana
The launch of this scheme will be of great benefit to many people, especially women and children, who live in remote areas. They have to face a lot of problem when travelling to work, school, or other places. This is because of the lack of transportation. But with the launch of this scheme, public vehicles will be introduced in the remote areas, which will make travel much easier for the commuters.
Another benefit that the locals of the remote areas will get is that, they can buy public vehicles at cheaper price and use it commercially in the rural areas. This will generate employment and income for the BPL family members and especially women.
When Where and Who launched the Yojana
The scheme will be completely handled by rural development ministry, with the complete support from central government. The first model of this PMGPY project has been launched by the Union transports Minister Mr. Nitin Gadkari in Maharashtra recently.
Other Articles