Pradhan Mantri Modi Mann Ki Baat Program
Hon'ble Prime Minister of India Shree Narendra Damodardas Modi started a broadcasting program on radio and television to directly connect to the common masses of the country. He felt that there is a need to communicate with the general public, discuss their problems and know their feedbacks. At first this program was supposed to be broadcasted in national television DD National and DD News only.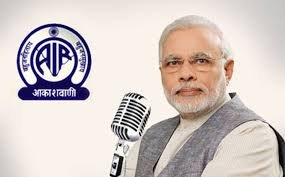 Then it was noticed that many homes which are in rural or isolated areas have no television. So it was decided to get it broadcasted in All India Radio also. By this, almost 90% of the general masses will get connected to their Prime Minister and discuss on various issues. Other private news channels and FM stations also broadcast this program directly or show the recordings of the show.
The first official broadcast was aired on 3rd October, 2014. It was a huge success with all time high TRP ratings. In the 1st episode, Prime Minister Shree Narendra Modi asked the common masses of India to buy and use Khadi clothes. By doing this, small scale and medium scale Khadi business in India will get fuelled. The Swachh Bharat Abhiyan was discussed and urged the common people of India to join in the noble effort to make and keep their homes, roads, neighborhood, school, offices, public places, rivers, etc. clean.  The MyGov.in website was also promoted along with India's Mars Mission and other current topics.
This Pradhan Mantri Modi Mann Ki Baat Program easily caught popularity and the whole nation got the chance to directly discuss with the Prime Minister of India about various issues. Modi launched many Govt. policies like Jeevan Jyoti Bima Yojana, Suraksha Bima Yojana, Nai Manzil Yojana, Sukanya Samriddhi Yojana, etc. for the common people. He made this Mann Ki Baat platform to launch and promote these policies and provide useful information about these Govt. Schemes. But one thing Modi made it clear that the Mann Ki Baat platform shall never be used to make political campaign for his own political party. Only it will be the platform to reach out to the masses of the country.
It was decided to broadcast the program every month. During Republic Day 2015, The President of The United States of America Barack Obama was in India. He was the chief guest of the Republic Day parade. The 27th January broadcast on Mann Ki Baa taws co-hosted by Modi and Barak Obama. They both discussed some common issues of India and United States.
Other Articles