Pratibhashali Chhatra Protsahan Yojana in Madhya Pradesh 2020 [Date] For ST/ SC/ OBC and General (MP Mukhyamantri Free Laptop Scheme, laptop vitran yojna) [Specification,Eligibility, Application Form, Registration Process, Student List, Status Check] shiksha.samagra.gov.in [प्रतिभाशाली छात्र प्रोत्साहन फ्री लैपटाप योजना]
Academic education is a must for all students who desire to achieve something in life. Proper education will allow a student to climb the ladder of success, and also assist the country to progress. A laptop will help these candidates when they cross the boundaries of school and take admission in any college. To assist such candidates, the state government of Madhya Pradesh has announced a unique scheme for 12th standard contenders. The name of this project is Pratibhashali Chhatra Protsahan Yojana, under which, all meritorious students will receive financial assistance to purchase laptops.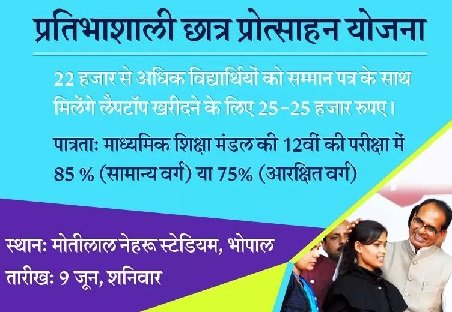 | | |
| --- | --- |
| Name | Pratibhashali Chhatra Protsahan Yojana |
| Announced Date | June, 2018 |
| Official ceremony will take place on | 9th June in Bhopal [The event will be held at Motilal Nehru Stadium] |
| Launched By | Shivraj Singh Chauhan |
| Toll free number | 0755-2600115 |
| Site | shiksha.samagra.gov.in |
| Target Audiance | Meritorious students |
Key features of Pratibhashali Chhatra Protsahan Yojana
Encouraging meritorious students – The main objective of this scheme is to offer financial assistance to 12th standard students. With the money they receive, they can purchase laptops, which will come in handy in future.
Financial assistance for purchasing laptop – The cash reward will allow the students to purchase laptops. It will help them in securing their dream of higher education. Each selected student will receive as much as 25,000 from the state.
Total number of beneficiaries – It is estimated that this year, the state will handover this cash prize to around 22,000 pupils. At the ceremony in Bhopal, 173 candidates will receive the certificate and cheque.
Certificates of merit – Apart from the cash reward, all meritorious candidates will also receive "sanman patra" or Citation Certificate from the MP government.
Distribution of cheque – The state government has announced that the financial rewards will be distributed by cheques. Each candidate will receive a cheque that will offer them a cash prize of Rs. 25,000.
Attaining information about the scheme
If any candidate is interested in attaining information about the scheme, then he/she can check out the authorized webpage for this scheme. To check out this site, one has to click on the link http://www.shiksha.samagra.gov.in/.
Eligibility criteria for the scheme
Marks related criterion for general candidates – Any general candidate who has passed the 12th standard final examination from the state board, will get the financial assistance for purchasing a laptop, if he/she secures 85% or more marks.
Marks related criterion for ST/SC candidates – For all applicants who fall in the schedule caste, schedule tribe or nomad category, will be able to attain this benefit in case they secure 75% or more marks.
State education board candidates – Only those candidates who have passed their 12th standard, under the Madhya Pradesh Board of Secondary Examination will be considered eligible for getting this cash reward.
Family income limit – The scheme also highlights an income criterion for interested applicants. If any applicant's parents have an annual income that crosses the 6 lakh mark, then they will not eligible for the laptop scheme.
How to check applicant's eligibility?
Any applicant who desires to admissibility needs to click on the link http://shiksha.samagra.gov.in/.
When another page opens, one had to bring the mouse pointer to the link marked as "Laptop."
It will trigger the activation of a new page. After landing on the new page, applicants will get a link marked as "Patrata Jane."
Once an applicant clicks on this, he/she will get to another page. Here, he/she needs to click on "Check your Eligibility" link.
It will open a page that has a filed marked as roll number. When the applicants feed the roll number and hit enter, the site will highlight information related to eligibility.
Documents needed for registration
Residence certificates – It has been highlighted that if the applicant lives within the borders of Madhya Pradesh, only them will he/she be able to get the benefits. To support these claims, residential papers are a must.
Certificate from school – It is mandatory for the applicants to study in any academic institution, run by the state government, located within the state boundaries. Applicants must submit school certificates to support this claim.
Final mark sheet – As the final selection will depend on marks obtained by candidates, they need to attach photocopy of final mark sheets, along with other documents and registration form.
Income proof – All applicants must attach income certificate to highlight that their parents do not earn more that the specified amount, mentioned in the scheme draft.
Aadhar documents – The submission of the Aadhar card is a must. It contains all personal as well as residential information about the applicant.
Recent photograph of applicants – Attaching a passport sized snap of the applicant is a must, for ease of identification. The snap must be clicked recently.
Application procedure of the scheme
Any student who passes all eligibility criteria can check out the official portal by clicking on the link http://shikshaportal.mp.gov.in/.
As soon as this link is clicked on, the home page opens up. Several schemes are highlighted on this page. To attain financial assistance for laptop, one needs to click on "Laptop" link. It is located at top right.
This link leads to another page. Here, applicants will find the link "Yojana." Clicking on this link will provide all details that one requires.
http://shiksha.samagra.gov.in/Laptop/Public/EligibleStudentforLaptop.aspx is the link that will open the page where the applicant needs to type in his/her roll number.
It registers the claim of the applicants. The state education department will then attain the details of each applicant from its database.
Once the scrutiny is over, a list containing all names of selected applicants will be uploaded on the official site.
Procedure to check payment status
All details will be made available on the official portal of the project. In case a candidate desires to check the status of payment, then he/she has to log on to the official link first.
Then he/she has to place the mouse pointer at and click on "Laptop" link.
When the subsequent page opens, he/she needs to click on "Patrata Jane" link.
It will offer access to a link that is marked as "View Your Payment Status". When applicants click here, they can land on the page that has a filed for typing in roll number.
In that box, applicants must feed the 12th class final roll number. As they press enter, the page will offer details about payment status.
Registering a grievance
If an applicant wants, he/she can register a complaint as well. For this, the applicants need to get to the "Patrata Jane" link by following the simple steps mentioned above.
Clicking on this option will open a new page. Here, candidates will get access to "Register a Grievance" link.
It will open a new page in a different tab. Here, one has to type in the roll number, select issue type from the given options.
Once details of the problem have been mentioned, the candidate needs to click on the link "Register Grievance."
It is mandatory to ensure that applicants have typed in the capchat code in the proper box, in an error free manner
Helpline and contact details
One need not toil must to attain the details for this unique student encouragement scheme. The details have been highlighted clearly on the official link, i.e. [email protected]. In case an applicant does not have access to internet connection, he/she can call on the toll-free number 0755-2600115. The helpline executives will offer their assistance in any way possible. It is best to call on this number on weekdays, during office hours.
Travel facility under the scheme
It has been mentioned by the state authority that the District Collector of Bhopal will have to work in close association with the District Education Officer. He will finally select the 173 candidates who will receive the cash reward and certificate on the specified date.
The state government has actively supported poor and meritorious students over the years. With these helps and encouragements, the overall literacy percentage in the state has gone up significantly. Students, residing in rural areas also get help to make their dreams of attaining higher education a reality.
Other Scheme