Apply Free Samajwadi Smartphone Yojana Registration Online by Akhilesh | samajwadisp.in/public/index.php 
Samajwadi Smartphone Scheme aka Samajwadi Smartphone Yojana  is a new scheme announced by CM Akhilesh yadav and this will give free smartphone to all eligible persons in UP. This scheme is already announced and online registration link is open. Delivery of phones would take place after UP assembly elections in 2017.
Free Samajwadi Smartphone Yojana in tabular Format
| | |
| --- | --- |
| Scheme Name | Free Samajwadi Smartphone Yojana |
| Registration starts from | October 2016 |
| Launched By | CM Akhilesh Yadav |
| Official Website | https://www.samajwadisp.in/ |
| Conditions | If samajwadi party comes to power |
| Funded by | State government of UP |
| Beneficiary | 18+ age students only |
| Delivery Date | After UP Assembly election |
| Last Date of Registration (Phase 1) | Dec Last 2016 |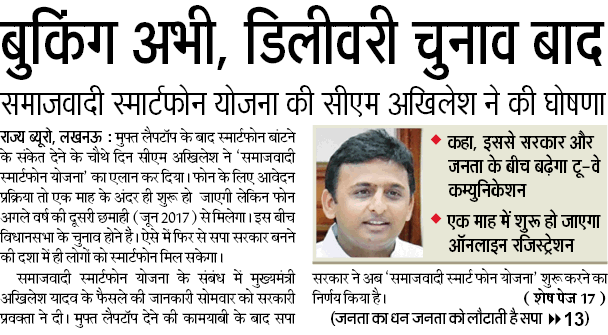 Samajwadi Free Smartphone Scheme – Features
SSS is a scheme started by state government of Uttar Pradesh in the year 2016. The scheme is to provide Smartphone to the high school students so that they can be connected with the world.
Under SSS all the high school students who are above 18 years can get Smartphone at their doorsteps by registering for it.
The registration for the phones will be starting from the last week of the month of September but the phones will be delivered to the students after the next poll election in mid-2017.
There will be first come first serve system in this scheme. Whoever will register first will get their phones first and then the other people will get them.
These phones will have some special apps and features that will help one to keep himself updated about the government jobs and schemes.
The entire scheme will be funded by the state government and no central intervention will be there for the scheme.
Eligibility for Samajwadi Free Smartphone Yojana
Citizens of Uttar Pradesh state, people that have voting rights in UP are able to register for the mobile phones.
Students who have passed or studying high school of age 18 years and above are only eligible for this scheme. No students below 18 years or person who is not a student of any recognised school or institution will not be eligible for this scheme.
Families that have yearly income of Rs. 2 Lac and less will be eligible to register for the scheme. The applicant students' family income should not more than 2 Lac per annum.
Apply Samajwadi Smartphone Registration Online Login
Registration for the scheme will be taken place from last week of the month September 2016. The registration will follow only online process, no offline system will be provided under this scheme. The registration is yet to start. The process will be easier and needs few steps to follow.
Step1: Go to official website of Samajwadi Party. (This site sometimes does not open)
Step2: Click on the "Panjikaran Kare" link shown in the website
Step3: Fill up the form with your basis details such as name, Middle Name, Last Name,Gender, Date of Birth, Mobile Number, Fathers Name, Janpad (District), VLE code and Verification code.
Step4: Check the boxes of declaration that your family income is less then 6 lakhs and you are not a government officer with grade 1 or 2.
Step5: Click on Submit Button.
Then you will get a userid and password in your mobile.
Please use this url http://samajwadisp.in/public/index.php/login and login using the user id and password you have got in your mobile. (http://samajwadisp.in/public/index.php/checkauth, Samajwadi sp public index php checkauth)
Note :- The official site is facing several issues.  You may get this error after pressing submit button " Whoops, looks like something went wrong". You may also face issues while uploading your documents. Special Apps in new Smartphone of Samajwadi Phone These phones are coming with some special apps and features that will not be available in other phones available in market.
There will be pre-installed apps from the government that will let the user know about the government schemes, crop market details, and study materials for the students, job alerts, and government facilities for the students and so on.
Other features like notification, weather, job vacancies and exam alerts will also be available in these phones. The government has decided to give these apps to be connected with the ordinary people.
What will happen if SP Losses UP Assembly election 2017
This is a manifesto promise of SP so this scheme would be scraped in Samajwadi Party loses assembly election in 2017. But what I assume is BSP and BJP will come up with similar kind of scheme in their manifesto. So eventually you are going to get it but the process of getting it would be different then. Samajwadi Smartphone Yojana Helpline Numbers You can get in touch with person who will help you with each and every thing of this free Smartphone Yojana. They wcan get in touch on this phone number 1800-102-5146 between 10 AM to 6 PM. There is no email id provided as such. Documents Required  Since this scheme is only for students so you will have to provide your 10th pass certificate and an additional ID prof. We recommend you to use you aadhar card as ID since this is universally accepted these days.
At the time of application for the registration is mobile number necessary?
Yes, at the time of registration the applicant has to provide a valid mobile number. That can belong to anyone from the family. One mobile number can be used 5 times at the max for 5 different members.
If there is any damage found in the Smartphone who will bear the cost of it?
The repairing cost for any damage of the Smartphone will be borne by the phone holder only.
A few additional details
In case of any damage to the smartphones after delivery to users, the government will not be liable and the user will have full responsibility for it. The users will have to repair the smartphones. At the time of registration, it is absolutely mandatory that you submit a valid mobile number of any members. A single mobile number can be used five times for registration in a family. Regarding the mobile phone model and specifications, it has not yet been disclosed by the government. But you can rest assured that the smartphone will run on latest OS and there will also be official apps preloaded in the smartphone. For more details, you need to visit the official website for Free Smartphone distribution scheme of Samajwadi Party.
Updates
Samsung may make Samajwadi Smartphone at Noida center.
You may also get some free SIM bundled with this phone.
As per CM Akhilesh this scheme will yeild a huge investment in UP
Almost 40 Lakhs people in UP have already registered in this scheme as of 29th Oct 2016.
UP Government has asked administrations to advertise this scheme.
Last date of Registration has been extended to Dec 2016.
Other Articles