Solar Charkha Mission Scheme 2018 Generate 5 Crore Jobs (Employment) Online Portal Registration, Eligibilty Criteria
Unemployment, especially in the rural areas is an alarming situation. Village craftsmen are impoverished and are in dire need of assistance. For handling this issue, central as well as respective state authorities have taken various steps. Newest employment generating venture, started by central government, is called Solar Charkha Mission. Under this scheme, rural people will get training and will be able to earn a better livelihood by producing cloth. The uniqueness of this project lies in the fact that these looms and spindles will be completely powered by solar energy.
Launch details
| | |
| --- | --- |
| Name of the scheme | Solar Charkha Mission |
| Launched by | Ram Nath Kovind, President of India |
| Launched on | June, 2018 |
| On the event of | Udyam Sangam on World Micro, Small and Medium Enterprise Day |
| Official implementation started on | 27th June, 2018 |
| Supervised by | Micro, Small and Medium Enterprise Ministry of India (MSME) |
| Scheme end year | 2020 |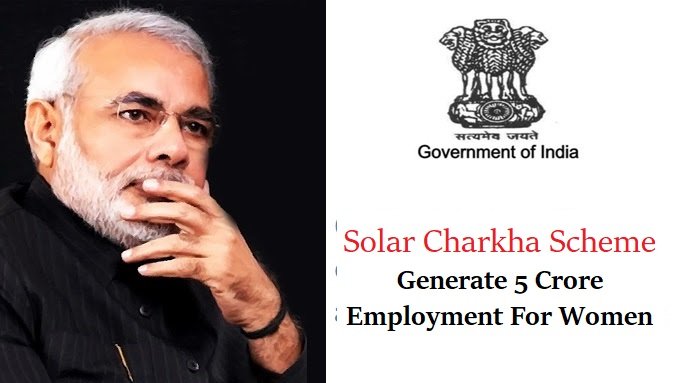 Key features
Women development – Government will also offer stress on women empowerment and vocation through this scheme. Around 80 lakh female candidates will receive training to join this sector. Apart from this, 5 crore female candidates will also find employment.
Creating more jobs – This scheme is all set to increase the employment opportunities in villages. As per estimates, it will offer as many as 10 lakh jobs in this sector.
Scheme duration – To analyze the overall impact of the scheme, central government will implement this program initially for two years. It will officially end on 2020.
Associating self-help organizations – Self-help organizations play a vital part in vocational development of people in the villages. Thus, these groups will also be roped in to help with Solar Charkha Mission implementation.
Artisan cluster creation – In rural areas, central government will put stress on cluster formation. Only craftsmen will be able to join these special groups. As of now, 50 separate clusters will be formed.
Size of each cluster – To ensure that work progresses smoothly, each group will have 400 to 2000 artisans.
Subsidy offered – In an attempt to boost this scheme, central authority has allotted Rs. 550 crore as subsidy.
Eligibility for the scheme
For small scale businesses – Only those applicants will be allowed to enroll under the scheme, which are interested in running small scale manufacturing units. Large scale organizations have been left out.
MSME certificate is a must – All business owners must be registered with the Micro, Small and Medium Enterprise Department. Without this certificate, applicants will not get the benefits.
How to apply via online portal?
All applications must be made via online process. The digitized application form can be accessed by clicking on the Udyam Sakhi portal link. The portal has been specially launched to offer information to interested applicants.
How to earn money through Solar Charka Mission?
Good quality cloth is always in demand. People who start their solar powered cloth production unit will be able to sell the product to central as well as state government. Even the Khadi Commission of India will come to the rescue of these businessmen. It will purchase the product and supply it to government departments directly. The quality of the cloth makes it possible to manufacture bed sheets, pillow covers, towels, duster cloths as well as garments out of these. If business owners want, they can sign contracts with garment manufacturing companies, and supply cloth to them.
How to install Solar Charkha?
Once an applicant has been selected to attain the benefits of the scheme, MSME will offer necessary parts and solar plates. It will also provide modern charkhas and looms, with which cloth can be manufactured. Much has not been said about the installation of these machines. It is estimated that MSME will offer assistance or applicants can hire experts on their own set up the charkhas.
Budget for the scheme
500 crore is the current budget of this scheme. The money will come in handy to provide machines as well as training to applicants. MSME department is also expecting an additional investment of Rs 10,000 crore in micro business sector.
How to start Solar Charkha business?
The central government has published the official invitation. Any person, who is interested in starting their own Solar Charkha Cloth Production unit, by installing the solar powered looms, need to apply to the respective authority. Necessary materials and help will be offered at low rates under the Prime Minister Employment Generation Program or PMEGP.
Financial requirements
If anyone is interested in starting the business on their own, then he/she will have to shell out as much as 24 lakhs 87 thousands. It is a massive amount for small scale business owners. The scheme draft states that applicants will have to pay only 10% of the total expense, while 90% will be offered by the authority. So, applicant s will pay Rs. 2 lakhs 48 thousands and the central authority will provide Rs. 22 lakhs 39 thousands.
Subsidy and repayment of the money
The money, offered by the central government is given as a loan. But the good news is, applicants need not pay any interest for this credit. However there is a credit percentage of 15%. But the authority will adjust it with the subsidy it is offering. Central government will provide a subsidy of 25% to all interested candidates. This amounts to Rs. 6 lakhs 22 thousands. Each applicant will have to return the actual credit amount within 5 years from the days of starting production.
Equipment and raw materials for the business
Once the applicant gets the credit, applicants will receive 25 charckahs, which run on solar power. Apart from this, they will also receive 10 looms. These machines will manufacture good quality cloth. Supply of raw materials will be done by Khadi Commission of India. There are no restrictions on attaining raw materials from other sources.
How much income can one expect from this business?
If the production unit running to its full capacity, then it will be possible to bring in as much as 79 lakhs to 80 lakhs on a yearly basis. Manpower is necessary to run the business unit and around 32 lakhs to 33 lakhs will be used for payment of their salaries, throughout the year. Around 15 lakhs will be required for procuring raw materials. Calculation shows that all these leave as much as 12 to 13 lakhs in the hands of the business owner. It means one can earn as much as 1 lakh from this business to start with. With time, a dedicated business owner can only expand and earn more from this cloth manufacturing venture.
The scheme will not only offer youngster and women proper employment opportunities, but will also create necessary awareness about ways in which solar power can be utilized. It will add to overall progress of the nation and also lower the ill-effects of unemployment.
Other Schemes –