Free Tablet computer PC for all Delhi Government School Teachers and Principals [Specification and Eligibility]
An official announcement has been made by the Delhi State Local Government about the distribution of free computer Table PC for all teaching staff and principles employed in Government schools within the Capital. The government shall provide the beneficiaries with tablet PCs free of cost. The benefit will be provided under the scheme for selected schools within the Capital.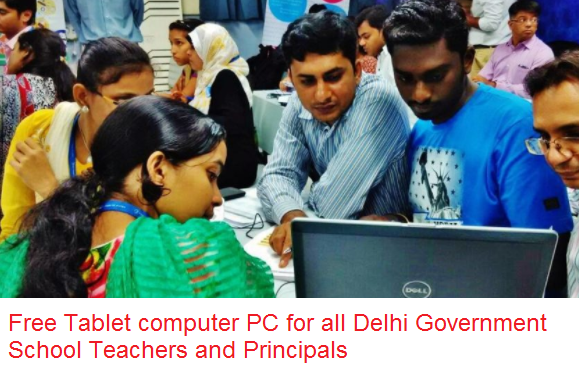 Launch Details
The new scheme introduced within the state has been officially announced by Dy. CM Manish Sisodia under leadership of Chief Minister Arvind Kejriwal and his Cabinet Government for implementation in 2017-18 academic years. The process of launching of the scheme will be solely regulated by the Delhi State Government in accordance of the education ministry of the state.
Beneficiaries
According to the sources the benefit of the scheme will be provided to all teaching staff who is employed in Government owned schools. The same benefit will also be provided to Principals of the schools.

The state government has selected over 50,000 school teachers who shall be offered with free Tablet PC. Besides a selection of Principals employed in over 1024 government schools has also be included in the list of beneficiaries.
Key features
Each beneficiary will be able to take the benefit of the scheme for free via the state government.

The government has also implemented the scheme with an aim to help eliminate the burden on teachers for their in classroom teaching.

The teaching staff and principal can make use of the Tablet PC to maintain attendance records of each student in the class for the academic year.

The teacher will also be able to use the digital gadget for interacting with parents regarding the student performance.

The state government has also ensured that each of the gadgets will be pre-installed with internet connections so teachers can make use of it for preparing their class lessons.

Furthermore the state government aims that the education department can make use of the data collected by teachers to help reduce the number of failures in class 10th and 12th board exams.

With this new implementation the government aims at reducing the number of failures at school level for this academic year.

According to the sources the government also aims at getting started with distribution of Tablet PCs by next two months.

For better implementation of the services the government will also provide teaching staff with necessary training in different activities.

The teachers will be provided with right level of training to be used when interacting with students at the time of teaching.

With the new automation the teachers will be able to focus more on delivering quality lessons in class as report generation can be done on digital platform.
Budget
The Delhi state government has announced a set budget of Rs 50 crore that it shall invest in purchasing Tablet PCs for distributing.
Other Articles