E-laxmi Scheme Yojana for women in Madhya Pradesh
In recent times, the entire nation facing some detonative moves taken by the current NDA government led by Mr. Narendra Modi on behalf of removing black money from Indian society and to drive people towards cashless transactions so that black money would be destroyed completely. Several schemes and new policies have been introduced through the nation in short span. As a latest amendment to that, E – Laxmi scheme has been introduced in the state of MP.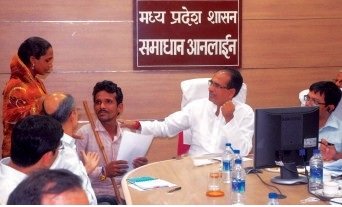 As a part of support for cashless transaction, all states in India launch several beneficial and innovative schemes. Madhya Pradesh government has recently launched a scheme E – laxmi programme on past Wednesday which aims to train women for digital transaction and promote cashless payments.
Anganwadi workers in the state will train women and encourage them to go for cashless transaction. This scheme starts from January 2017 as a New Year gift, said by the state's Chief minister Shivraj Singh Chouhan.
Chouhan spoke to media persons after the inaugural function of this scheme. He added that this scheme personally helps each woman to get training in technology. They can come to know how to use debit card for every purchase they do.
E – Laxmi Scheme in Madhya Pradesh
As government is rolling out with different types of schemes, with the execution of this special scheme, people can make sure that new technology is implemented throughout the country.
Archana chitnis who is the minister of women and child development of India, said that women could possibly be the best ambassadors for the promotion of digital transaction all over the stage. She said that promoting cashless payments among women can reach more. All women from the state of MP can take advantage of that scheme and do the transactions of their own in the future.
Features of E-laxmi scheme
The scheme mainly focuses the women from the Madhya Pradesh state. The scheme fully supports women to go cashless transactions with so many easy procedures specially designed under this scheme.
They can understand how transaction is made through debit cards of their account. They will be educated on basic things like account norms, PIN usage of debit cards and more.
This scheme is to implant confidence among women to do debit card transactions.  Many women opened Jan dhan accounts without the knowledge in using them. With the help of training through E-laxmi scheme they can handle their own accounts.
Key points of the scheme E-laxmi
This scheme reach out women till March 31 2017 and then it will be implemented after tuning the process. Firstly it is implemented in the state of Madhya Pradesh.
Women doing small business like running a beauty parlour, boutiques and so will be provided with pos (point of sale) machines with training on how to use them.
Of the total numbers of 92000 anganwadis, the main anganwadi centres which are numbered as 80160 and 12070 pointed mini anganwadis participate in the scheme to provide training.
The workers of these anganwadi centres help working women as well as housewives in all the districts of MP avail more benefits of E-laxmi scheme.
The MP government announces various other schemes to promote digital transactions. With E-laxmi scheme women benefit more by getting free training from the government.
The applicants can approach nearby anganwadi centres to know the details of this scheme. Every woman should participate in this and help the country to promote the cashless transaction.
The main purpose of E-laxmi scheme to train women is that by teaching women, the government teach the entire society to follow the trend. This scheme takes the state as well the nation forward. This is one of the best ways to take India to the digital approach.
There is constant support for all moves towards cashless country. The government expects more support for this scheme among women in Madhya Pradesh. Of all beneficial schemes E-laxmi is one the main scheme that promotes digital transaction among women.
With such innovative scheme, the aim of current central government of making India Digital will be achieved in short span of time. On witnessing the state people's intention over the scheme, it is pretty clear that the scheme will be huge successes.
Other Articles