For availing the facilities of the Pradhan Mantri Jan Dhan Yojna, the applicant needs to open a Jan Dhan Yojna Savings account which is a basic Saving Bank account with any bank branch or Business Correspondent (Bank Mitra) outlet.
The Jan Dhan Yojna was formerly designed to benefit the poor people below poverty line, who do not have a valid bank account. But, even those in the lower-income groups who already have an existing bank account can avail of the facilities by opening the Jan Dhan Yojna bank account differently from their existing account. The Aadhar Unique Id Card is a prerequisite in such cases. It is also necessary that the Aadhar card is not linked with any of the existing bank and also suggested that the Jan Dhan Yojna Saving account be opened at a bank, where you do not have an existing account.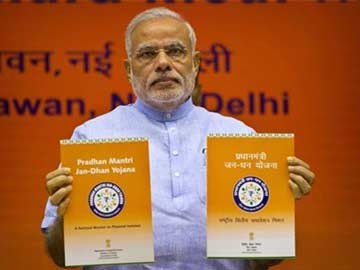 Under the Jan Dhan Yojna the RBI rules of account opening have been relaxed thus ensuring a speedy and easy procedure. The applicant needs to have a Valid id proof for verification of address, nationality etc. The id-proof can be anything like the Aadhar Unique ID Card, Driving license, Passport copy, Pan Card or a Voter id card. An NREGA job card attested by a state government official is also accepted a valid id proof. A letter from the village head or the Sarpanch is also accepted as valid Id proof in many cases. If an applicant does not have any of these proofs, a photograph signed in front of a bank official is also accepted for opening of the Jan Dhan Yojna Saving Bank account.
The insurance facility under the Jan Dhan Yojna can be honored only if the Ru-Pay Debit card provided is active. The card will be considered active only if it has been swiped within the specified time limit of 45 days before the claim is made. Hence, to keep the card active and avail of the allied services, it needs to be swiped at least once a month.